Annually observed on November 3rd, National Sandwich Day honors one of America's most popular lunch items. Interestingly enough, the name "sandwich" is believed to be the namesake of John Montagu, The 4th Earl of Sandwich. He actually claimed that he invented the sandwich.
As a rumor in a travel book suggests, Montagu was an avid gambler. He refused to take meal breaks during his long hours at the tables playing cards. Instead of leaving, he would ask his servants to bring him slices of meat between two slices of bread. Needless to say, this quickly became a trend and fellow gamblers began ordering "the same as Sandwich." And that's how the sandwich was born.
We aren't gamblers, but we sure do love a good sandwich, especially since there are so many variations of this classic meal. Try making one or more of the following recipes and let us know how they turned out in the comments below.
Roasted Eggplant Sandwich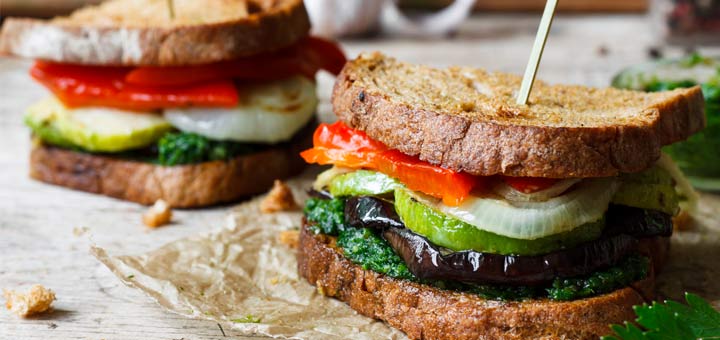 It's good to use ingredients that you wouldn't normally use. The eggplant is an underused ingredient, but it so versatile and nutritious! See what we mean by making this sandwich.
Click here to make the recipe.
Raw "Tuna" Collard Wraps
If you are tired of eating salads and want a meal that will make you appreciate the possibilities of raw food, you need to try these wraps.
Click here to make the recipe.
Jackfruit Chicken Salad Sandwich
Forget about the chicken because we have jackfruit! This "chicken" is filling, creamy, and will keep you coming back for more.
Click here to make the recipe.
Collard Wraps With Mixed Vegetables
It's not all about the bread on National Sandwich Day. Wraps are a much healthier option, especially when you are filling them with colorful, nutrient-dense ingredients!
Click here to make the recipe.
Fresh Vegetable Sandwich With An Avocado Dressing
Sandwiches don't need to have meats, cheeses, or chemical-filled condiments. You can make a healthy vegan sandwich with some of your favorite veggies.
Click here to make the recipe.
2022-03-11T05:04:17-07:00