Some people will tell you that this upcoming Sunday is all about the game, while others argue that the commercials and the halftime show are the real reasons for tuning into the game. Then there are those of us who know that the big game is all about the food. In fact, as the two teams battle it out on the field, Americans battle it out to see who can put more food on their plate.
Statistically, Sunday's big game is the second largest food "holiday" in the United States, the first being Thanksgiving. The National Chicken Council (yes, this is real thing) reported that Americans consume about 1.25 billion pounds of chicken wings during the big game. While carrot and celery sticks are moderately popular dipping snacks, they don't come close to the 11.2 million pounds of potato chips that are consumed during the big game. Additionally, one in seven Americans order takeout, 60 percent of which are pizza orders, and about 14 billion burgers are grilled.
Because of all the food that is consumed during the game day weekend, antacid sales increase about 20 percent the Monday after the game. In fact, about 1.5 million Americans call in sick to work because they either have horrible stomachaches, or they are too hungover. We want you to be able to function the day after the game, though, and that's why we have put together a list of our favorite snacks and appetizers. Snack on these foods during the game and you won't have to worry about digestive discomfort.
Bake Carrot Chips
Take a break from the heavily salted, artificially flavored and dyed chips for this game day and bake these carrot chips so you can snack deliciously and guilt-free!
Click here to make the recipe.
Vegan "Cool Ranch" Dip
Seasoned with parsley, chives, and more "ranchy" spices, this raw vegan dip is perfect for your next vegetable tray. Let's get dipping!
Click here to make the recipe.
Tostones With A Blended Mango Salsa
We've decided to bring a little island flare to your game day appetizers and snacks. These are extremely tasty and once you make them, you'll want to eat them every week!
Click here to make the recipe.
Cucumber Salsa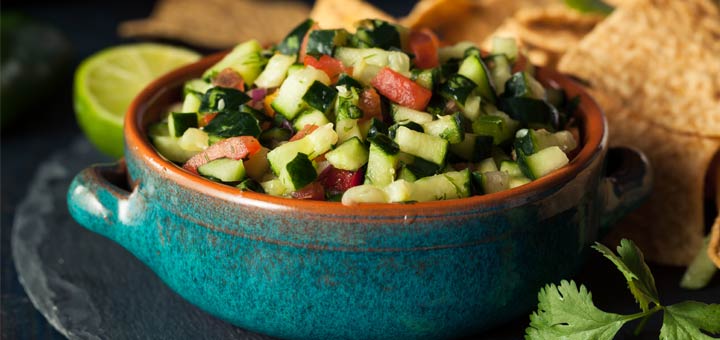 Get ready to dip because this is the most refreshing salsa we've ever tasted. Perfectly crunchy with just the right amount of heat.
Click here to make the recipe.
Grilled Pineapple With A Cinnamon Honey Drizzle
We all need a little sweetness in life, especially at a game day party. There's no need to go out and buy processed sweets when you can easily use a few fresh ingredients to make a sweet treat. The best part is that this sweet snack is grilled!
Click here to make the recipe.
2022-03-17T05:26:49-07:00