Since Halloween lands on a Tuesday this year, we can only assume that most of the festivities will be happening this weekend. Whether you are hosting a party or going to a friend's house, it's best to get festive with your food. Have a little fun with presentation to make some deliciously themed appetizers or snacks.
A Little History
Halloween dates back to the ancient Celtic festival of Samhain, which celebrated the New Year on November 1st. This day also marked the end of the summer harvest and the beginning of the dark, cold, haunting winter months. In the 8th Century, Pope Gregory III designated November 1st as a day to honor all saints, known as All Saints Day. The evening before, October 31st, became known as All Hallows Eve and later as Halloween. People carve pumpkins, trick or treat, eat candy, dress up in costumes, and make awesome appetizers courtesy of Dherbs.com ;)
Frankenstein Avocado Toast
Feel like being Doctor Frankenstein and creating a monster? No? How about little monster toasts? This is a healthy appetizer idea that is fun for the kids and everyone who sees them.
Click here for the recipe.
Stuffed Mushroom "Eyeball" Appetizer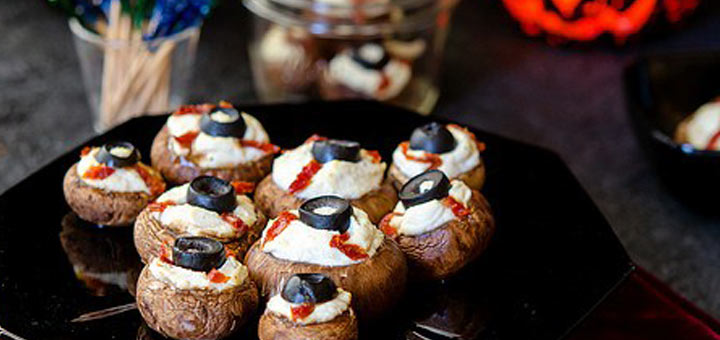 Who doesn't love mushrooms? They are a great source of B-vitamins, vitamin D, and the minerals potassium, zinc, and manganese. These healthy "eyeballs" are a savory and healthy Halloween appetizer. No cannibalism here, people; just delicious and nutritious eating. Wait and "see" how these taste.
Click here to make the recipe.
Witchy Guacamole Dip
Rather than doing the run-of-the-mill party snack like veggies and dip, get in the spooky spirit and have some fun. Make this dip look like a witch's face.
Click here to make the recipe.
Jack-O-Lantern Salads
This fun salad is a great, healthy little appetizer for a Halloween themed dinner. The oranges serve as bowls, jack-o-lanterns, and you get to eat the orange in the salad. The lovely citrus goes great with the sesame flavored dressing.
Click here to make the recipe.
Banana Ghosts And Clementine Pumpkins
A little chocolate never hurt anybody, especially when pairing it with bananas and clementines. While you can't give these out to trick-or-treaters, they do make for cute and healthy Halloween snacks.
Click here to make the recipe.
2022-02-10T01:52:34-07:00