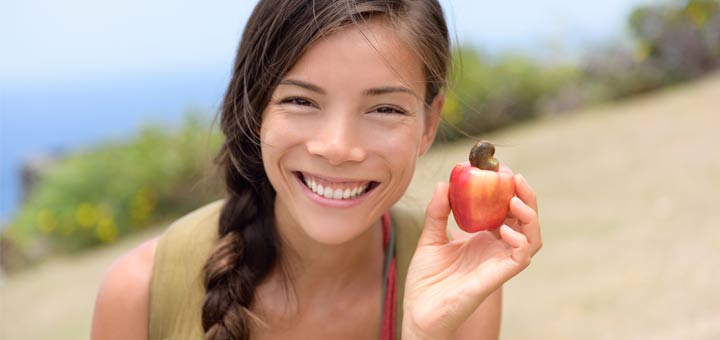 The cashew is a beloved snacking nut that can be used in many different ways. Wait a second, though; we can't go on without clarifying one thing. Cashews are actually seeds harvested from cashew trees, which are native to northeastern Brazil. They grow inside a shell (nut), but cannot be distributed in the shell because of an inedible fluid that grows inside it. With the growth in popularity, cashew trees are now grown in many tropical climates.
Fun Fact: The largest cashew tree in the world is located in Natal, Rio Grande do Norte, Brazil, and covers about 81,000 square feet!
Cashews are great sources of protein and energy, and they actually cause fewer allergic reactions than other nuts. They are rich in manganese, copper, magnesium, and phosphorus, all of which are essential trace minerals.
Fun Fact: The cashew tree has a fruit called the cashew apple. A lot of people in Latin American countries make a drink from this fruit.
To help you celebrate National Cashew Day, we have a few awesome recipes for you to try. They are super easy to make, but you'll need a good blender or a food processor.
Homemade Cashew Milk
Making cashew milk is like making any other nut milk, in that they are all prepared the same way. It is a great alternative to almond milk if you are allergic to almonds. Make it and see how tasty it is.
Click here to make the recipe.
Creamy Cashew Green Smoothie
This smoothie is both subtly tart and sweet. It's perfect for any person on the Full Body Cleanse or a child who needs to eat more greens!
Click here to make the recipe.
The Ultimate Cashew Cheese Recipe
This is truly the mother cheese sauce of the raw vegan diet because it can be transformed into a dip, sauce, dressing, or firm raw cheese.
Click here to make the recipe.
Collard Wraps With An Herbed Cashew Spread
Once you take a bite out of these crunchy, peppery, creamy, & filling wraps, you'll realize that your opinion about raw foods has changed.
Click here to make the recipe.
Raw Banana Cashew Energy Bars
You may not know what ingredients are in the pre-packaged bars at the store. That's not the case with these raw and delicious energy bars.
Click here to make the recipe.
2022-03-14T01:12:11-07:00