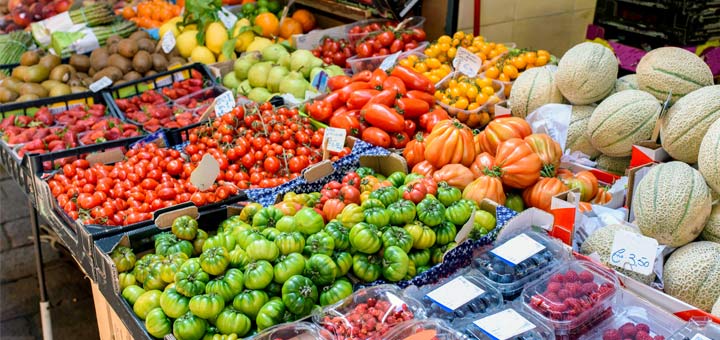 The changing of seasons brings new seasonal produce. Summer produce items are some of our favorite produce items out there. Stone fruits (apricots, plums, peaches, and nectarines) are the best during the summer because they are so plentiful. There are also a lot of other fruits and vegetables you should buy on your grocery runs. You can even head to the farmers markets for the freshest varieties. Check out the best summer produce items below.
Apricots
Apricots have been shown to improve heart health, strengthen bones, improve metabolism, and treat anemia. They are rich in fiber and are, therefore, good for smooth bowel movements. The impressive health benefits of apricots are due to the high vitamin content, including vitamins A, C, K, E, and niacin. Apricots are also rich in potassium, copper manganese, magnesium, and phosphorous.
Cantaloupe
Cantaloupe is a rich source of vitamin A, vitamin C, potassium, folate, and the micronutrients copper, iron, and zinc. This summertime melon is naturally low in sodium and contains some dietary fiber and calcium.
Cherries
Cherries possess an anti-cancer compound, called ellagic acid, and are high in vitamins A and C. They also contain biotin, potassium and have antibacterial, antioxidant, anti-cancer, and anti-inflammatory properties. Also, eating cherries may help boost melatonin levels in your body, which can improve sleep quality.
Figs
Figs contain a plethora of beneficial nutrients, such as vitamin A, vitamin B1, vitamin B2, phosphorous, manganese, sodium, potassium, and chlorine. These fruits exhibited an ability to lower cholesterol, control diabetes, strengthen bones, and they are quite useful in treating various respiratory disorders like whooping cough and asthma. They also work to combat indigestion.
Cucumbers
Cucumbers contain vitamin B1, vitamin B2, vitamin B3, vitamin B5, vitamin B6, folate, vitamin C, Calcium, iron, magnesium, phosphorus, potassium and zinc. Who needs a multivitamin? Plus, they help to keep you hydrated because they are more than 90% water.
Watermelon
Watermelons have antibacterial and anti-cancer properties, vitamins A and C, iron, and potassium. Watermelon has been shown to reduce inflammation, improve digestion, and improve athletic performance. Watermelon also contains lycopene, which may benefit bone and heart health.
Celery
A great low calorie food, celery also makes a great juice ingredient that goes well with both fruits and other vegetables. The high levels of silicon in celery are beneficial for joints, bones, arteries, and connective tissues. Experts say that chomping on a stalk of celery is just as good for your teeth as brushing them. Who knew!
Onions
Onions contain a naturally occurring chemical, which has been found to promote bone health and reduce the risk of osteoporosis. They also contain high levels of quercetin, an antioxidant that helps lessen free radical damage. Red onions can also help to lower blood sugar levels, due to their trace amounts of quercetin.
Summer Squash
Squash is an important source of many nutrients, including vitamin C, magnesium, and other antioxidant compounds. These vitamins and minerals are important antioxidant components, which help to neutralize free radicals throughout the body. Squash has been shown to boost the immune system and improve lung and heart health. It is also a good source of B-vitamins, which are essential for regulating metabolic activity.
2023-03-07T03:52:14-07:00