When you are cleansing, we advise doing some prep work for your meals. This makes life so much easier when you get hungry, or when you want to take healthy lunches with you to work. Sometimes you just want to put as little effort as possible into dinner after a long day at work, which is when zucchini noodles come in handy.
If you haven't boarded the veggie noodle train yet, you need to get on board. Zucchini noodles have taken the health world by storm. Grocery stores are starting to sell spiralized zucchini noodles, but it is so easy and way healthier to spiralize your own zucchini noodles. If you prep them on the weekend, though, what is the best way to keep them fresh for future meals?
The best way to store your spiralized vegetable noodles is to refrigerate them in glass containers that are lined with paper towels. The paper towel helps to absorb the moisture from the noodles and the airtight container keeps them fresh. If you blend a homemade pesto, cashew cheese sauce, or raw marinara sauce, you can store those in glass jars in the fridge for about 3-5 days. Toss with your veggie noodles when ready to eat and you have the perfect raw dinner.
To give you some inspiration for zucchini noodle recipes, here are three of our favorite "zoodle meals" to eat while cleansing.
#1: Lemon Zucchini Noodles With Avocado & Cashew Cheese
This raw recipe takes a little longer because you salt the zucchini noodles in order for the water to drain out. This helps them absorb the flavors of the sauce, and it adds a little extra texture to the noodles.
Click here to make the recipe.
#2: Zucchini Noodles with Basil Almond Pesto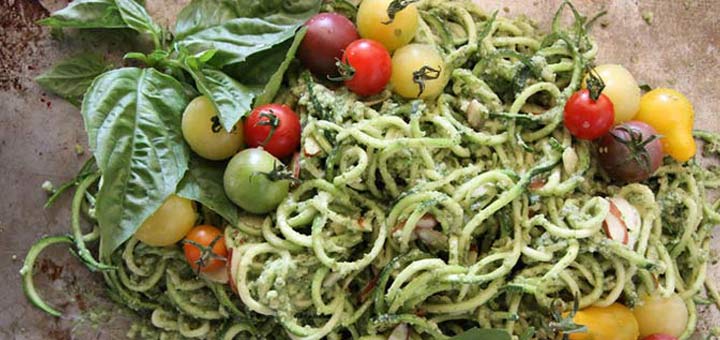 Using a vegetable spiralizer is a great way to make carb-filled, unhealthy dishes a lot healthier. Try experimenting with other veggies to make them into noodles, but enjoy this tasty vegan pasta for now.
Click here to make the recipe.
#3: 10-Minute Curry Zucchini Noodles
If you are eating raw, you may want hot food. The best way to do that on a raw food diet is to eat meals that have a spicy kick. The curry powder, chile flakes, and cayenne can help warm you up, even though you won't be cooking anything. Pretty cool, right?
Click here to make the recipe.
2022-02-08T00:33:11-07:00