Pie is definitely worthy of its own day! It has been an unofficial holiday since the 1970s, when pie was abundantly served in diners across America. This glorious culinary creation is versatile and comes in all flavors, shapes, and sizes. In fact, pies have been coming in different forms since the Egyptian Neolithic period in 9,500 B.C.
Pie Fact #1: 20% of Americans have confessed to wolfing down a whole pie alone, without any help from others.
Americans most commonly eat dessert pies. The top pie flavors include pumpkin, blueberry, cherry, apple crumb, lemon meringue, apple, key lime, and chocolate crème. The only non-dessert pie that receives a lot of attention in the United States is chicken pot pie. In the United Kingdom, New Zealand, and Australia, however, minced pies or shepherd's pies are very common and regularly consumed entrées.
Pie Fact #2: 186 million pies are sold in grocery stores and supermarkets in America each year.
If you are unsure of how to celebrate National Pie Day, don't worry because we have your back, and some recipes! We strayed from the beaten path with these creations, but we hope you like them. If you make them, let us know what you think!
No Bake Key Lime Pie Energy Bars
Get out the food processor because you aren't going to be able to resist these protein-filled bars that can energize you throughout the day. Think of one bar as a healthy slice of pie.
Click here to make the recipe.
Raw Vegan Pumpkin Pie Tarts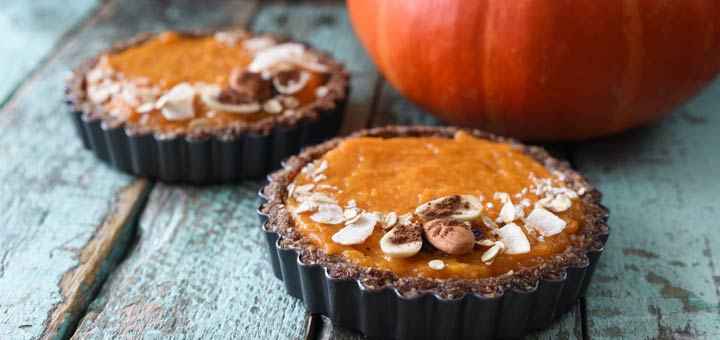 While it may not be fall anymore and the pumpkin spice fad has come and gone, you can still enjoy these sweet and delectable pumpkin tarts. The best thing about this dessert is that it is hard to mess up!
Click here to make the recipe.
Raw Pizza With Spinach Pesto & Marinated Vegetables
Yes, we had to go savory for our third and final Pie Day recipe. This one is for all the people with dehydrators because you need one in order to get the raw pizza crust. This pizza is delicious and fills you up super fast because the food is so nutrient dense.
Click here to make the recipe.
2022-03-17T01:42:34-07:00