Let's face it, people: guacamole is downright delicious. We'll venture to say that it may be the best dip that was ever created. It's a vision of culinary genius, and we lunge at every opportunity we get to eat it. In order for you to indulge in the tasty creation that is guacamole, we combed through our recipe archives to find the best guacamole recipes.
What Makes Guacamole So Healthy?
A successful guacamole begins with perfectly ripe avocados because they don't mash easily if they aren't ripe. If you can get your hands on organic avocados, that just takes your guacamole to the next level. All avocados, however, contain beneficial, heart-healthy fats and other nutrients. In fact, a single serving of avocado (one cup) satisfies the recommended daily intake (RDI) of the following nutrients:
Folate: 20% of the RDI
Vitamin B5: 14% of the RDI
Vitamin B6: 13% of the RDI
Vitamin K: 26% of the RDI
Vitamin E: 10% of the RDI
Vitamin C: 17% of the RDI
Potassium: 14% of the RDI
In addition to those nutrients, avocados also contain iron, zinc, copper, manganese, magnesium, and vitamins A, B1, B2, and B3.
Now, let's get back to what matters: making guacamole. If you're super cool and awesome, you make guacamole in a molcajete, which is a three-legged bowl typically made from basalt stone. In pre-Hispanic Mesoamerican cultures, including the Mayans and Aztecs, the molcajete had a lid because it was used in traditional burial ceremonies. People of high society decorated it with colors and designs. Eventually, people started using molcajetes to grind spices or prepare salsas and guacamole. You use the handheld grinding tool, the temolote, to mash the ingredients. You have to break in the molcajete because the inner bowl is rough at first. It takes a few uses, seasoning if you will, to yield that perfectly smooth texture. You can do this by grinding uncooked white rice in the molcajete.
You can use a molcajete or a bowl with a fork to make guacamole and it will come out delicious every time. See what kind of deliciousness you can get into by making the recipes below.
Easy Guacamole
We're starting you off easy, with a simple recipe for this magical dip. This may be the purest guacamole recipe we have, but you start here and build with more flavors as you dive down the guacamole rabbit hole.
Click here to make the recipe.
Spicy & Sweet Mango Guacamole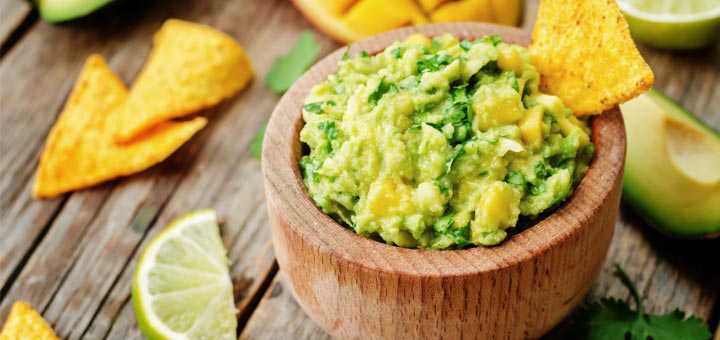 Looking for a dip that will help boost your energy levels, nourish your brain cells, and regulate blood sugar? This is that dip. Try it out!
Click here to make the recipe.
Garlicky Guacamole
This is a great guacamole recipe that packs a garlicky kick. It is so simple to make and helps to fill you up. As we mentioned earlier, avocados also contain beneficial heart healthy fats, so you can enjoy this dip guilt-free!
Click here to make the recipe.
Killer Guacamole With A Twist
This guacamole recipe is about to change your life. Made with classic Middle Eastern spices, this guac has incredible depth of flavor.
Click here to make the recipe.
2022-04-13T06:03:04-07:00