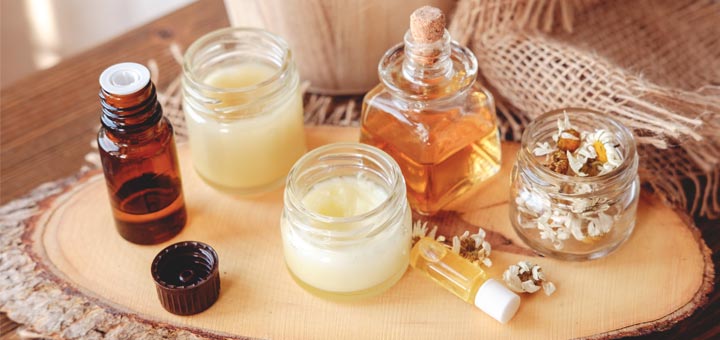 When the weather is dry and cold, the skin can always use a little extra attention. If it isn't the brisk wind outside, indoor heating or frequent hand washing may easily dry out the skin. Whatever the reason, dry skin is no laughing matter. Fortunately, there are easy ways to provide it with moisture. One of the best ways to do that is to lather the skin with the balm in this article.
If you are familiar with our content, especially in relation to skin care, you know that using natural ingredients is our top priority. There's no reason to moisturize with products that contain harmful chemicals. Not only can some of these chemicals disrupt endocrine function, but they can also wreak havoc on sensitive skin. It's better and healthier to ditch the store bought creams and lotions and use fragrance-free, chemical-free recipes that moisturize. Plus, you can typically save yourself a lot of money and avoid negative skin reactions when you make your own skin care products.
Sweet Almond Oil
Almond oil tends to remain on the skin's surface, and it exhibits antibacterial, anti-inflammatory, and antioxidant properties. It's considered to be both a moisturizer and an emollient. While moisturizers supply the skin with water and hold it in with an oily substance, emollients soothe the skin and fill in gaps. Emollients don't necessarily add moisture; rather, they help the skin retain it by improving the skin barrier function. That makes sweet almond oil excellent for helping the skin retain moisture during dryer climates.
Extra Virgin Olive Oil
According to several research studies, using extra virgin olive oil to moisturize dry skin is excellent. Olive oil is rich in fatty acids, including oleic acid, linoleic acids, palmitic acid, and more. Similar to sweet almond oil, olive oil is an emollient, meaning it contributes to smoother, softer skin by locking in moisture. Olive oil is also known as an occlusive moisturizer, meaning that it coats the skin and seals in moisture simultaneously, ensuring that moisture doesn't evaporate.
Beeswax
Beeswax generally works for all skin types, but this all depends on the concentration of the beeswax. People with dry skin may greatly benefit from applying beeswax on the skin. It is just like olive oil in that it's an occlusive moisturizer, so it creates a protective layer on the skin. That helps seal in moisture to keep the skin looking hydrated and healthy. Beeswax also exhibits anti-inflammatory, antiviral, and antibacterial properties, which help to protect the skin. Another benefit of beeswax is that it contains lots of vitamin A, which works to fight fine lines and wrinkles.
Homemade Skin Balm
Ingredients:
2 tablespoons each: extra virgin olive oil, coconut oil, sweet almond oil
2 teaspoons beeswax pellets
10 drops peppermint essential oil
8 drops lavender essential oil
4 drops lemon essential oil
Instructions:
Begin by adding the olive oil, coconut oil, sweet almond oil, and beeswax into a bowl over a double boiler. Make sure there is an inch or so of water in the bottom of the double boiler.
Allow the oils and wax to melt over medium-low heat. Stir well throughout the heating process to thoroughly combine the ingredients.
Remove from the heat and then add the essential oils. It's important that you don't add the essential oils during the heating process as the heat can alter their chemical structures.
Mix well and then pour into a glass jar, or container of your choice. Allow it to thicken and then keep in a cool, dry place. It has a shelf life of about six months.
2022-05-13T04:32:49-07:00