Is there anything better than ice cream? Whether it is a cold winter day or hot summer night, there is no wrong time to enjoy ice cream. It is the year round treat that is universally loved by everyone. People who are lactose intolerant cannot resist ice cream, even if it means a night of bloating and gas. We have some good news for the lactose intolerant people, and it is that the ice cream recipes in this article are 100% dairy-free. 
Does dairy-free, raw vegan ice cream sound too good to be true? Not only is banana ice cream much healthier than regular ice cream, but it is also just as delicious. Don't knock it until you try it because these simple, no-churn creations will satisfy your ice cream craving and leave you feeling nice and light after enjoying it.
What Is Nice Cream?
Simply put, nice cream is ice cream that is nice to your body. It isn't technically ice cream, but it does have the same creamy texture that you know and love. Nice cream usually has the base of frozen bananas, which you blend until thick and creamy. The ingredients you blend with the frozen bananas will determine the flavor profile. You can do everything from chocolate banana nice cream to salted caramel banana nice cream. You can even blend bananas with a little vanilla extract and call it a day!
If you are a banana lover, then nice cream will satisfy your ice cream craving. You can make it in a pinch because you only need the ingredients and a blender. Depending on how frozen you want the nice cream, you can spoon the blended banana mixture into a freezer-safe container and freeze for a couple hours to really firm up. That is what you want to do if you want perfect scoops. If you enjoy a texture that is more akin to frozen yogurt, you can enjoy it straight out of the food processor or blender. To get your started, take a look at the following recipes, all of which are dairy-free, raw vegan, and completely cleanse-approved. 
3-Ingredient Chocolate Banana Ice Cream
Can you believe this chocolate banana ice cream is 100% raw vegan? Of course you can because we just told you all of these ice creams are exactly that! Made with bananas, cacao, and raw almond butter, this is to die for!
Click here to make the recipe. 
Strawberry Banana Ice Cream
Raw vegan, paleo, and dairy-free, this strawberry banana ice cream is the perfect dessert to cool you down from the inside out when it's hot outside.
Click here to make the recipe. 
Banana Pineapple Ice Cream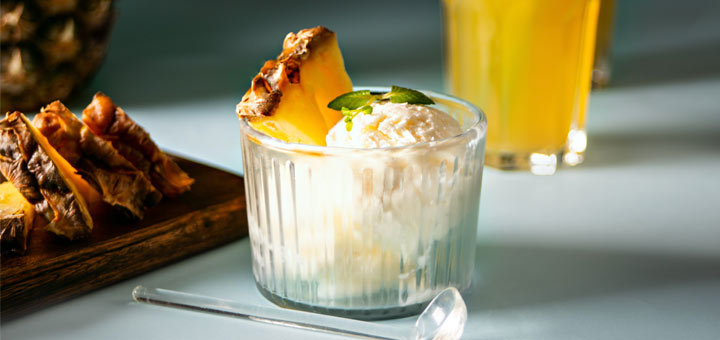 A true taste of the tropics! A healthy, non-alcoholic rendition of a piña colada, minus the coconut. However, you can always add fresh coconut meat or desiccated coconut to the recipe to achieve a similar flavor to that classic cocktail.
Click here to make the recipe. 
Raw Vegan Butter Pecan Ice Cream.
No butter, but there are pecans in this healthier rendition of a classically unhealthy dessert. Making the dairy-free, raw vegan version of butter pecan ice cream is as easy as 1,2, 3! Get out the food processor and blend away!
Click here to make the recipe. 
Banana Coconut Ginger Ice Cream
Serve up a bowl of this luxurious, raw vegan banana ginger coconut ice cream. You don't even need an ice cream maker!
Click here to make the recipe.
2023-05-22T17:04:59-07:00