A smoothie is much more than a blended mixture of random fruits, vegetables, and liquid. Creating a smoothie that you thoroughly enjoy is an art, as it requires mixing and matching different textures and flavors. So how do you create the perfect smoothie that rivals the $10+ smoothies at juiceries and smoothie shops? Learn about the essential tips and some of our favorite recipes below.
Don't Add Too Many Ingredients
If you just add a bunch of random ingredients to a blender and blend away, you can create a great smoothie, right? Not necessarily, but you may luck out with a random concoction of ingredients. Typically, though, you want to keep your ingredient list relatively simple to avoid a flavor competition. The idea is to pick ingredients that complement each other, for example, bananas and blueberries, spinach and ginger, beets and carrots and apples.
Fresh Or Frozen Fruit?
Why not both? Well, we do have to say that frozen fruit tends to be better for smoothies because it blends thicker than fresh fruit to give you a cold, filling mixture. There is nothing wrong with adding both frozen and fresh fruit to smoothies. It is better to freeze ingredients like bananas, mangoes, blueberries, and strawberries, though. Excellent fresh fruit additions include apples, oranges, pineapple, and papaya.
Pick Your Fruit
The fruit you include in your smoothie will depend on the flavor profile you want to achieve. A tropical smoothie may call for papaya, mango, and banana, whereas a summery smoothie may call for a combination of berries. More often than not, you will include banana in your smoothie, which yields creaminess. Bananas are especially important if you make chocolate smoothies with raw cacao powder, almond milk, almond butter, and avocados. Lastly, avocados are always a great thickener, should you find yourself in a situation without bananas. Just make sure the avocados are not underripe, or they will give off a bitter flavor.
Pick Your Vegetables
Some people toss vegetables into their smoothies willy-nilly, but this strategy doesn't yield the best flavors. When it comes to leafy greens, spinach is the easiest one to incorporate without adding a strong bitter flavor. Kale, on the other hand, does have a stronger flavor profile that needs to be tamed by the right fruits. Other vegetable additions that many people don't consider adding to smoothies include celery, beets, carrots, cucumbers, and zucchini. Just play around with measurements and have the right fruits to add sweetness.
Pick Your Liquids
Without liquid, you don't have a smoothies, unless you use juicy fruits like oranges, grapefruits, and fresh berries. Typically, water is a great liquid to use, but many people enjoy creamier smoothies. To yield creamier smoothies, almond milk, coconut milk, cashew milk, hemp seed milk, or oat milk are the best liquids to use. Many nut milks often add a subtle hint of nuttiness, which can be a nice complement to other flavors. When choosing nut milks, though, choose the ones that do not contain added sugars or flavors. Better yet, make your own!
In addition to the above recommendations, you can always throw in some optional add-ins to take your smoothie up a notch. Fresh mint, vanilla extract, cinnamon, ground flax seeds, raw honey, dates, raw agave nectar, or spirulina can elevate your smoothie game. Now, check out some of our favorite recipes.
Carrot, Apple, Kale & Ginger Smoothie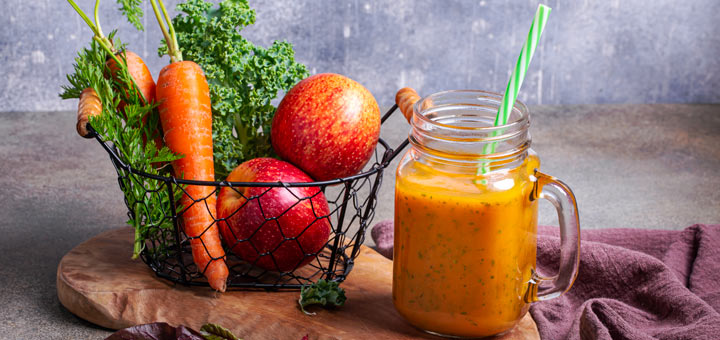 A simple carrot, apple, kale & ginger smoothie is the perfect balance of nutrient-dense ingredients and wonderfully refreshing flavors.
Click here to make the recipe.
Super Easy Powerhouse Green Smoothie
Power up with nutrition when you make this green smoothie. After the first sip, it'll quickly become a new favorite!
Click here to make the recipe.
Kiwi Spinach And Blueberry Smoothie
Totally refreshing with notes of tart and sweet flavors, this kiwi spinach and blueberry smoothie will give you the morning boost you need!
Click here to make the recipe.
Refreshing Green Grape Smoothie
This smoothie tastes just like refreshing lemonade! This green grape smoothie is loaded with beneficial nutrients and tons of flavor.
Click here to make the recipe.
Mango Blueberry Smoothie With Chia Seeds
Get a healthy dose of omega-3 fatty acids, fiber, protein, and diverse antioxidants when you fuel up with this mango blueberry chia smoothie.
Click here to make the recipe.
2022-05-16T01:22:13-07:00