One of the most common things we hear from our customers, who are cleansing, is that is they cannot bear the site or taste of another salad. This is understandable, but only if the same dressing and ingredients are used repeatedly. Eating the same food, no matter what it is, day after day can bore your palate. You have to change up your salads to continually excite your taste buds and make your salads interesting.
Lettuce get you excited about eating salads! See what we did there? Anyway, we constantly update our recipe section so that people, who are cleansing, always have new recipes to eat. Salads are not limited to romaine lettuce, cucumbers, tomatoes, bell peppers, and carrots with an apple cider vinaigrette dressing. You can put all sorts of cleanse-approved ingredients in your salads!
By varying your salad ingredients, you not only keep your food interesting, but you also get a wide variety of nutrients. For instance, a salad with zucchini, arugula, basil, and mint is going to offer different health benefits than a salad with raw pecans, tangerines, avocado, apples, and spinach. Because we want to ensure that all of our customers have the best cleansing experience and enjoy their meals, here are five awesome salads that you will definitely keep making during your cleanse.
#1: Strawberry Kale Salad With A Strawberry Vinaigrette
This salad makes you hungry just looking at it! Each bite is more satisfying than the next. After one bite, you'll know that it's a keeper.
Click here to make the recipe.
#2: Crunchy Cabbage Salad With A Thai Inspired Dressing
Get your crunch on with this Thai-inspired salad! It's the perfect low-calorie meal that is filled with a wide variety of antioxidants.
Click here to make the recipe.
#3: Raw Mock "Chicken" Salad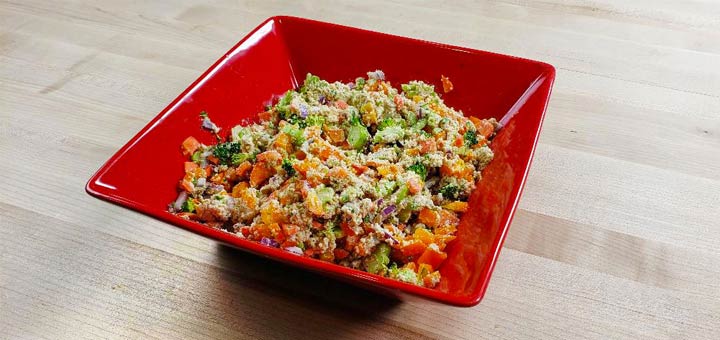 Were you thinking about cheating on the raw diet by eating some chicken? You don't have to cheat now that you have this "chicken" salad recipe.
Click here to make the recipe.
#4: Matchstick Beet, Carrot, And Apple Salad
Beet the heat (haha!) with the refreshing flavors in this salad of julienned carrots, beets, and apples. You'll absolutely love it.
Click here to make the recipe.
#5: Arugula Orange Salad With A Lemon Ginger Dressing
Every bite of this peppery winter salad bursts with zesty flavors. The harmonious marriage of citrus and ginger brings everything together.
Click here to make the recipe.
2023-05-12T02:39:51-07:00