Have you been trying to incorporate more plant-based meals in your diet, but are having difficulty creating recipes? It can be a little daunting to navigate unfamiliar territory because you may not know exactly what you can and cannot use. Rather than driving yourself crazy and immediately converting to a plant-based diet, transition into it slowly, so as not to overwhelm yourself.
Meatless Mondays are a great way to start your plant-based lifestyle. We want to help you on your quest to be a healthier individual, and your goal to make the planet last longer, so we have provided you with breakfast, lunch, dinner, and dessert options to start your Meatless Mondays. If you want to go meatless for more than one day a week, go for it! If you have a favorite meatless recipe, let us know about it in the comments.
Breakfast
Breakfast is one of the most important meals of the day, so start it off in a plant-based way! Start things out on the right foot and go with one of these three easy, simple choices.
Raw Cashew Yogurt Parfait
Don't want to drink a smoothie for breakfast? You don't have to! Make this parfait for a filling breakfast. Don't be shy with the toppings, either!
Click here to make the recipe.
Banana Almond Overnight Oats
Don't have time to make breakfast during your busy mornings? You can have an easy grab-and-go breakfast by making this the night before.
Click here to make the recipe.
The Popeye Special Green Smoothie
Remember how Popeye ate spinach and was immediately energized and strong? That could be you immediately after you drink this green smoothie!
Click here to make the recipe.
Lunch
We love to eat big salads for lunch and go a little lighter for dinner. That is beneficial for your digestive system. Here are some hearty salads that have unique flavor and will become some household favorites.
Crunchy Cabbage Salad With A Thai-Inspired Dressing
Get your crunch on with this Thai-inspired salad! It's the perfect low-calorie meal that is filled with a wide variety of antioxidants.
Click here to make the recipe.
Raw Mock "Chicken" Salad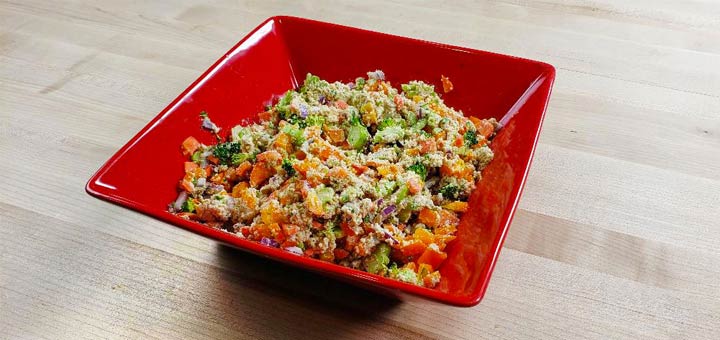 We don't want to lead you astray and make you think that this tastes like chicken, because it doesn't. When you mix it together with the vegetables, however, it does have a similar texture to chicken salad. The important thing is that the flavors are bold and it is a great recipe to keep you from eating meat.
Click here to make the recipe.
Lemony Kale Salad With Chickpeas
Add a little zest to your life with this vibrant salad that is filled with heart-healthy fats, vitamin K, and lots of plant-based protein.
Click here to make the recipe.
Dinner
Breakfast and lunch are typically the easier meals to go plant-based. When dinner rolls around, people seem to start craving some animal-based food items. You don't need to crave those things because we have these super easy dinner ideas.
Crispy Chickpea Tacos With A Tahini Dressing
Get ready to experience some powerful flavors! With some tangy notes and hints of spice, these chickpea tacos are perfect for dinner!
Click here to make the recipe.
Moroccan Sweet Potato And Lentil Soup
Let this Moroccan soup warm your soul during the cold weather. It's one of the easiest meals you'll ever make in the slow cooker.
Click here to make the recipe.
Vegetable Kebabs With A Balsamic Glaze
The balsamic glaze is going to elevate your vegetable kebabs to another level. Fire up the grill and get to cooking!
Click here to make the recipe.
Dessert
You didn't think we would leave you with no dessert recipes, did you? There are great plant-based desserts that are very easy to make. Try some of these and let us know how you like them.
3-Ingredient Chocolate Banana Cookies
Sink your teeth into these cookies that you can enjoy guilt free! They are best fresh out of the oven, but you can always eat them later.
Click here to make the recipe.
Banana Mango Pudding
Whether you are looking for a sweet mid-afternoon snack or a guilt-free dessert, this banana mango pudding is the recipe you need.
Click here to make the recipe.
2-Ingredient Chocolate Banana Ice Cream
This is the perfect guilt-free treat for warm summer days. No ice cream machine needed and it's ready in under 5 minutes!
Click here to make the recipe.
2022-03-11T02:14:29-07:00