Is hummus good for you? The shorter answer is that it is if you make it yourself. If you buy flavored, packaged hummus from the store, you may be consuming excess amounts of sodium, preservatives, and flavorings. Not all store bought hummus is bad for you, but most are not as nutritious as the recipes you make yourself. 
What Is Hummus?
Hummus is a great dip that's made by blending chickpeas, tahini, olive oil, lemon juice, and garlic. There are many variations, but that is a fairly standard recipe. Homemade hummus is an excellent source of protein, fiber, healthy fats, and complex carbohydrates. In fact a 100-gram serving of hummus provides the following nutrients:
Calories: 166
Fat: 9.6 grams (g)
Protein: 7.9 g
Fiber: 6 g
Carbs: 14.3g
Folate: 21% of the recommended daily intake (RDI)
Phosphorus: 18% of the RDI
Copper: 26% of the RDI
Iron: 14% of the RDI
Manganese: 39% of the RDI
Zinc: 12% of the RDI
Magnesium: 18% of the RDI
Vitamin B6: 10% of the RDI
Now, it should be noted that the above nutritional breakdown comes from plain hummus. We aren't talking about roasted red pepper, garlic, roasted artichoke, or pine nut hummus varieties. Hummus can be an excellent source of dietary fiber, which works to keep you regular by adding bulk to stools, making them easier to pass. Additionally, the body's gut bacteria turns some of the fiber from hummus into short-chain fatty acid butyrate, which helps nourish colon cells. 
Are There Other Benefits?
Hummus is full of heart-healthy fats, which come from the olive oil. Studies have shown that people who consume oils with healthy fats have a lower risk of death from heart disease. Increasing your consumption of olive oil by two teaspoons a day may reduce the risk of heart disease by 10%, according to one study. Eating hummus that contains tahini (made from sesame seeds) may also reduce inflammation. The sesame seeds work to reduce IL-6 and CRP, vascular inflammatory markers, which increase the risk of arthritis. Finally, hummus has a low glycemic index, helping you avoid a sharp blood sugar spike. The fats in hummus also slow the absorption of carbs from the gut, providing a slower, steady release of glucose into the bloodstream. 
We could go on about hummus and the many health benefits all day, but you came for the recipes and we're going to give them to you. Read on to learn how to make six variations of this amazing dip.
Classic Homemade Hummus
Whip up a batch of this healthy homemade hummus and enjoy a smooth, creamy dip that bursts with hints of cumin and garlic.
Click here to make the recipe.
Spicy Cilantro Avocado Hummus
Indulge in this ultra creamy and slightly spicy dip for a healthy snack. Even though it is quick and easy to make, it is oh so delicious.
Click here to make the recipe.
Cucumber Chickpea Hummus
You can't go wrong with cucumber, dill, and chickpeas. There isn't much to say about this except, "Ready your carrot sticks for dipping!"
Click here to make the recipe.
Un-Beet-Able Hummus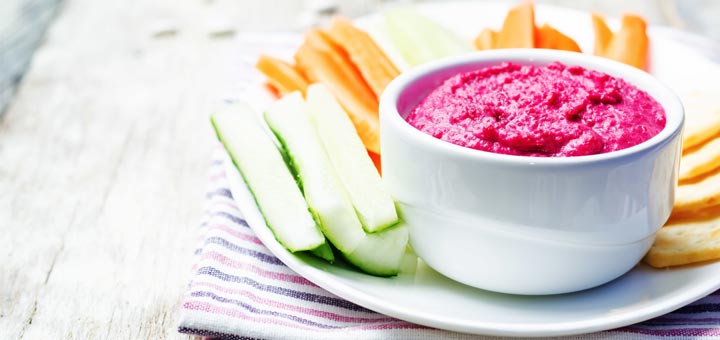 This isn't your average dip. The flavors in this hummus are un-beet-ably delicious and you'll find yourself coming back for more, one dip at a time.
Click here to make the recipe.
Roasted Garlic & Cauliflower Hummus With Kale Pesto
While this isn't a Full Body Cleanse approved dish, it is a vegan dip that will change up your dip game for good. It's like having two dips in one! Make it and you'll never regret it.
Click here to make the recipe.
Spicy Black Bean Hummus
This southwestern take on a traditional hummus recipe uses black beans instead of chickpeas. Get ready for the spice when eating this dip!
Click here to make the recipe.
2023-05-10T00:33:09-07:00