Spaghetti squash is one of the most popular winter squash varieties. With more and more people converting to gluten-free diets, no-grain pastas are becoming more popular than ever. We love pastas that are made out of vegetables because it means we get to avoid consuming highly processed grain pastas that can cause blood sugar spikes.
If you watched Dherbs CEO, A.D. Dolphin, on the Steve Harvey Show, then you saw him make raw zucchini pasta. Since zucchini is naturally soft, it makes great raw noodles that are perfect if you are participating in one of our cleanses. If you like living healthy and are just trying to adopt a grain-free diet, spaghetti squash is the next food item you need to master. You cannot eat spaghetti squash raw because it won't actually look like spaghetti. You have to treat it right.
The Benefits of Spaghetti Squash
Spaghetti squash is very versatile and is low in carbohydrates. Consider this: one cup of regular pasta has 200 calories, while one cup of cooked spaghetti squash only has 42 calories. Like carrots, spaghetti squash contains beta-carotene, which is beneficial for healthy eyesight, lowering cholesterol levels, and great for people with insulin resistance. Additionally, spaghetti squash is rich in omega-3 and omega-6 fatty acids, which promote healthy brain function and help to fight heart disease.
If you need some folate in your life, spaghetti squash is the veggie for you. Folate is beneficial for cell production and helps filter toxins from your blood. You'll also be getting potassium, manganese, vitamins A & C, and B complex vitamins when you eat spaghetti squash.
What's The Best Way To Cook It?
Roasting spaghetti squash is the best way to cook this squash to get the desired spaghetti-like texture. Boiling this squash will give you the "noodles" you seek, but roasting gets a better flavor. All you have to do cut the squash in half lengthwise, scoop out the seeds, drizzle with olive oil, season with salt and pepper to taste, and roast them on a baking sheet for 30-45 minutes at 400 degrees.
Once you remove the squash from the oven, let the squash cool before using a fork to pull the meat from the peel with a fork. It will look like thin pasta. Our favorite three recipes are listed below.
#1: Vegan Spaghetti Squash a la Puttanesca
This is an homage to the classic love scene from Lady and The Tramp when eating spaghetti turns into an accidental kiss. Here is the vegan version of those spaghetti and meatballs. Enjoy!
Click here to make the recipe.
#2: Spaghetti Squash Burrito Bowls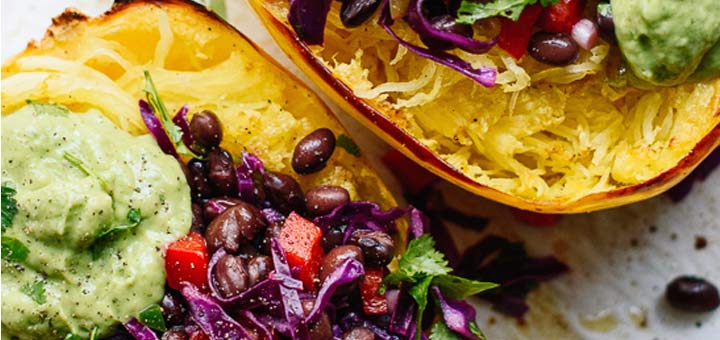 While the squash is in the oven, you'll have plenty of time to toss together a simple, colorful red cabbage slaw with some salsa verde.
Click here to make the recipe.
#3: Quinoa And Spinach Spaghetti Squash Boats
This meal is filled with beneficial nutrients…and it tastes amazing! It is filling, healthy, and captures some of fall's best flavors.
Click here to make the recipe.
2022-01-14T00:17:12-07:00