Chia seeds have a reputation for being one of the most nutrient-dense foods in the world. Even though they are small, they contain a wide variety of vitamins and minerals. They are enjoyed around the world and are becoming increasingly popular in the United States.
Chia Fact: These little seeds were consumed as early as 3,000 BC to help with strength and natural healing.
Chia seeds contain the nine essential amino acids that the body cannot produce on its own, making them a complete plant-based protein. In fact, chia seeds have the highest amount of protein when compared to other seeds and whole grains. They can also absorb nine times their volume in liquid, which ultimately helps your body retain electrolytes.
Gram For Gram Comparison
25% more fiber than flaxseeds
30% more antioxidants than blueberries
8 times more omega-3s than salmon
6 times more calcium than milk
2 times more potassium than bananas
Chia Fact: You can make chia seeds into a facial mask by combining ½ cup coconut oil, one tablespoon fresh lemon juice, and two tablespoons of chia seeds. Mix it up and apply it to your face.
We want you to experience the benefits of chia seeds, which is why we are sharing some of our favorite chia recipes with you! If you make them, let us know how you liked them in the comments below.
Keto-Approved Chocolate Chia Pudding
If you are looking for a keto-friendly treat that is also cleanse-approved, this is the recipe for you. It only takes five minutes to make!
Click here to make the recipe.
Strawberry Chia Seed Jam
This recipe is so much more than a simple jam. Free of artificial flavors and sugars, this jam is versatile for snacking or breakfast.
Click here to make the recipe.
Golden Chia Pudding
Whether you want breakfast on-the-go or a filling snack, this chia pudding is all that and more. It's filled with protein, zinc, iron, and omega-3s.
Click here to make the recipe.
Raw Mango Yogurt With A Mango Chia Jam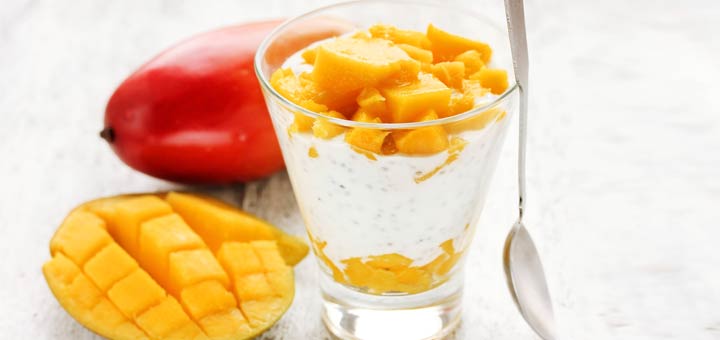 In case you haven't noticed, we have an affinity for raw cashews. Their versatility makes them the perfect ingredient to blend into raw sauces, dressings, raw cheese spreads, and even raw cheesecake.
Click here to make the recipe.
The Ultimate Clear Skin Green Smoothie
This may be one of the best green smoothies that you'll ever drink. It really packs a powerful nutritional punch! The diverse mix of nutrients in this smoothie are great for your skin.
Click here to make the recipe.
2022-03-14T01:15:34-07:00