Maple syrup is a beloved condiment in America. While Canada is the largest maple syrup supplier (producing more than 5 million gallons each year), the Native Americans have been making maple syrup since before European settlers arrived in the early 1600s. When it comes to maple syrup production in America, Vermont is the number one supplier.
Tapping the Tree:
Sugar maple, red maple, or black maple trees are typically tapped for their sap, but there are other maple varieties. Tapping a maple tree does not permanently damage the tree, and only about 10% of the sap, which the tree produces over the year, is actually collected. Some trees have been tapped for over 150 years! The reason so many trees have to be tapped is because it takes about 30-50 gallons of sap to make one gallon of maple syrup.
Benefits of Grade A Maple Syrup:
Pure maple syrup is much more than a breakfast table condiment. It can be used as a sweetener for smoothies, teas, energy bites, desserts, and more, but make sure to purchase 100% pure grade A maple syrup that is free of colorings and GMOs to ensure that you reap its nutrients. This type of maple syrup contains zinc, magnesium, riboflavin, manganese, potassium, calcium, and iron. A mere quarter cup of grade A maple syrup fulfills 41% of your recommended daily intake of zinc. Maple syrup also contains antioxidants that reportedly have antibacterial, anti-diabetic, anti-inflammatory, and anti-cancer properties.
When it comes to maple syrup nowadays, there are so many varieties that are chemically processed and filled with sugar. The best maple syrup to get is 100% pure, organic grade A maple syrup. We have a few recipes for you that include this type of maple syrup, so make some today and let us know how you like them.
Pumpkin Pie Smoothie Bowl:
If you don't want to dine on pumpkin pie and want a healthier option, this pumpkin smoothie bowl is the recipe you've been searching for.
Click here to make the recipe.
Quick And Easy Raw Horchata:
This takes plant milk to a whole new level of deliciousness, with pronounced flavors of cinnamon and vanilla. Enjoy a fresh glass today!
Click here to make the recipe.
Fuji Apple Salad With A Maple Vinaigrette:
Get ready to experience love at first bite. It's a mouthwatering salad that hits salty, sweet, crunchy, and herbaceous notes on the palate.
Click here to make the recipe.
An Easy Raw Vegan Cashew Yogurt: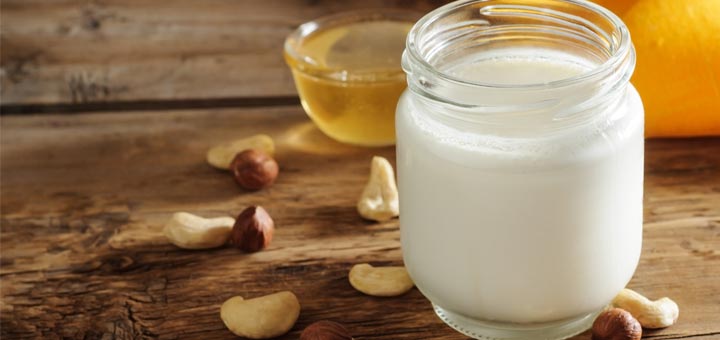 This raw yogurt is probably one of the easiest raw breakfasts or snacks that you'll ever make. Top it with fresh fruit to make it complete.
Click here to make the recipe.
Maple Pecan Pie Smoothie:
If you enjoy the taste of maple syrup and pecan pie, then you are in for an absolute treat with this smoothie. It's a drinkable dessert!
Click here to make the recipe.
Sources:
https://nationaldaycalendar.com/national-maple-syrup-day-december-17/
https://www.punchbowl.com/holidays/national-maple-syrup-day
2019-12-10T10:55:23-07:00