Plant foods have everything (almost). You can live off plant foods and not eat another ounce of animal products and be absolutely and wonderfully healthy. Plant foods have protein, fat, carbohydrate, fiber, and almost all the life-preserving phytochemicals, vitamins, and minerals.
About 15 or so years ago, I became a vegetarian. Around 10 or more years ago, I became what I call a "sloppy" vegan. As you should know, vegetarians eat plant foods but may also eat eggs (ovo-vegetatrian) or dairy products (lacto-vegetarian). A vegan, on the other hand, does not eat any animal foods. I consider myself to be a "sloppy" vegan because I still own and wear leather shoes. Once a month I might have some type of dairy food or maybe something with eggs in it. And if at a restaurant, I might order a vegetable soup that may have been made with chicken broth. The key to my sloppy vegan lifestyle is that I do not ever buy animal foods for my home use, nor do I ever order animal foods.
Before I get into the benefits of vegetarian/veganism on weight control, I want to make it clear that I am talking about following a diet that consists of vegetables, fruit, beans, nuts and seeds, whole grains and minimal or no refined or processed foods. There is nothing worse for the cause of encouraging plant-based diets than those who think that it's healthy to eat refined-grain products rich in fats and added sugar, processed packaged vegetarian foods, and virtually no vegetables and fruit. There are a lot of "vegetarians" and "vegans' out there like this. You may even know some. Ever met a "vegetarian" who looks shriveled up, pale and have to have his or her caffeine fix in order to walk? Or what about that friend of yours who claims to be a vegan but is overweight and every time you see them they're eating all kinds of refined, sweet-fat-enriched flour "animal-free" foods?
If you want to be healthy and eat a lot (like I do!) and not think about how much you're consuming, a plant-based diet is ideal. To become lean you should eat only unrefined plant foods from the following food groups in this order: green leafy vegetables, all vegetables, fruit, beans, whole grains, and some nuts and seeds until you are lean. Then add in whole- or sprouted-grain breads. There is room for debate on the use of nuts and seeds in weight-reduction programs as part of your daily diet. There is no problem eating raw nuts or seeds in a weight-reduction program if you have some control and replace animal foods with them.
Raw nuts have good fats and provide protein, fiber, and provide a degree of satiety. Also, some fat may help prevent gall bladder disease and improve vitamin absorption on a low-fat, plant based weight-reducing diet. The problem is many people eat handfuls of salted and roasted nuts (instead of raw), which have significant amounts of fat as well as salt. So I am always cautious in recommending nut and seed consumption, which are inherently very nutritious and good foods. Remember, fat has two-and-a-half times the calories of a carbohydrate or protein per gram! Nuts are more calorie dense than a carbohydrate or protein. So be cautious. Maybe a quarter cup per day or less of raw nuts if you're on a weight loss program.
Following a plant-based diet also eliminates needless cruelty to animals. I have never heard anyone say that slaughterhouses and meat-packing plants are kind and "humane" to animals (and to their workers). More importantly, there is not one scientific reason that we as humans have to eat a single bit of animal food to procreate, thrive, evolve, prevent disease, and be well as a human species. The only reasons we kill animals for food that I can think of are five-fold:
We are just used to doing it. It's part of our culture.
Eating meat is associated with feeling sustained or full.
Well-meaning but uninformed people think we need to eat animal foods to survive and thrive as human beings.
People like the taste of meat.
There is a large economy centered on meat production.
Again, to be clear, there is not a shred of scientific evidence that we have toeat another mouthful of animal foods to thrive and be well as a human species. Therefore, there is no need for this cruel process of mass meat production. None! There is, however, a lot of evidence that a well-thought out, high micronutrient vegetable-rich, whole-food, unrefined vegan diet is exactly what the world needs right now as far as preventing and reversing the chronic disease taxing every country's healthcare system. Plus, animal foods and dairy products are very calorie-dense foods, generally don't have beneficial fatty acid profiles, increase inflammation and are also virtually absent of protective phytonutrients as well.
By eliminating factory-farming of animals for food consumption would also be a great thing for our environment in reducing greenhouse gases, conserving precious water resources, protecting our soil and rain forests, and reducing the spread of infectious diseases that come from the waste derived from the factory farming of billions of animals per year.
And to go one step further we should leave the fish in the ocean alone as well as they're not needed either. We can get our anti-inflammatory omega-3 fatty acids from the same places animals do: lots of green vegetation, sea vegetables, and some nuts and seeds. And, if needed, in supplements from plant sources of omega-3 fatty ac ids (alpha-linolenic acid–ALA, docosahexaenoic acid–DHA and eicosapentaenoic acid–EPA) which are now available.
If we continue to deplete fish stocks not only will we lose species of fish but we will also affect the ecology of the ocean, which can only cause us harm. Secondly, if we try to remedy the situation with intensive fish farming to grow fish faster in cramped quarters (which has already begun to happen) it becomes a breeding ground for unhealthy things as we've seen with factory farming of animals for food.
You can make the switch to a plant-based diet for whatever reasons you want. I did it for my health, the ecology, kindness to animals and spiritual reasons. My reasons don't have to be your reasons. What I can tell you is that getting over the craving for meat will be easier than giving up dairy products, caffeine or sugar. So I suggest you start slowly. Making this permanent change is an evolutionary process. Once you start, it will take on a life of its own. Each journey will be different but it's a journey that will definitely change you, improve your health and help the planet as well.
---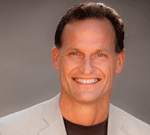 As a certified physician's assistant specializing in nutrition, prevention and integrative medicine, KIRK HAMILTON maintains that if there's one cure all for chronic disease it's what you eat. With his emphasis on consuming more unprocessed, micronutrient dense plant-food along with simple cross-training and mind/body principles, Kirk has been instrumental in guiding his patients and clients toward the path of optimal health since 1983. He has also been a valued educator to health professionals. As the founder of Clinical Pearls Publications, Kirk provided summaries of nutritional research to practicing physicians and researchers around the globe until he sold the company to Tishcon Corp. in 2004. Since 2009 Kirk has hosted his own radio program/podcast titled Staying Healthy Today. He has interviewed hundreds of the top experts in the medical field including Joel Fuhrman, Dr. David Jenkins and Dr. Neal Barnard. Drawing on his 28 year career, in August 2011 Kirk self-published the book titled "Staying Healthy in the Fast Lane – 9 Simple Steps to Optimal Health." His book serves as a guide for individuals, professionals and policy makers on how to create a new health paradigm that is focused on staying well and prevention instead of treatment.
Follow Kirk!
www.prescription2000.com

The greatest medicine of all is to teach people how not to need it.
Read about how to lose weight and prevent chronic diseases by purchasing Kirk's book, "Staying Healthy in the Fast Lane – 9 Simple Steps to Optimal Health." Order your copy here. Enter code "RX40" and receive an automatic 40% off your book purchase.
Dherbs Soultions:
2015-08-27T12:01:17+00:00