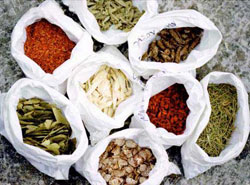 The Traditional Herbal Medicinal Products Directive (THMPD) is a recent directive that states that sale of supplements, vitamin and herbs will be banned without a license in the United Kingdom and across the EU. This directive went into effect April 1, 2011.
This means that you will now be required to have a license in order to sell herbs. The licenses are very costly and hard to obtain by herbalists.
Herbs That Are Banned by the THMPD
Some of the herbs that soon will be banned in the UK and EU include:
Ashwagandha
Cascara Sagrada
Pau D' Arco
Scullcap
Horny Goat Weed
Ashwagandha is an Ayurvedic herb that has been around for hundreds of years. The herb is very potent and effective for the brain and sexual reproductive system, especially in males. To date, no one has died from consumption of this herb.
Cascara Sagrada is the second most effective laxative herb available. It ranks second in effectiveness to African Senna Leaf. Cascara Sagrada is a potent laxative and helps to cleanse the liver and also kill and expel certain parasites and worms. This herb has been used for centuries and is very effective in naturally healing colon disorders and diseases, especially constipation. Again, no one has been killed by consumption of this herb.
Pau D' Arco is a potent immune boosting and blood cleansing herb that is found in the rainforest. The herb has therapeutic properties that can be used for over 100 ailments. Native Americans have used Pau D' Arco for countless centuries as an herbal supplement. This herb has also never caused a death.
Scullcap is an effective herb with moderate to mild nervine properties. It is helpful to those with depression and insomnia. Scullcap is another herb that has never caused a death.
Horny Goat Weed is an herb that is also known as Epimedium. It is a well known Traditional Chinese Medicine herbal used mostly for boosting the male and female libido and stamina. It naturally helps to enhance the sex life of those who take it. The consumption of Horny Goat Weed has never been linked to a single death.
What This Means for Herbs
This directive takes the health and wellbeing of individuals out of their own hands and puts it into the hands of the government. Natural herbal products are being forced off the shelves due to regulation and rule. The result will be a decline of natural herbal medicine.
The popularity of herbal supplements will force people to seek out herbal supplements from sources that may have poor quality control standards. Internet sales of these products will increase because they won't be available on store shelves. Product standards are harder to control on the internet and this will put people at risk for getting low quality products or tampered products.
Natural herbs are meant to keep us healthy. They do not claim to treat or prevent a disease or condition. They are simply meant to keep us healthy and avoid health complications in the future. Limiting access to these natural supplements will hurt natural health as a whole.
Reversing the Directive
Efforts are under way in Europe to try to reverse this highly destructive directive. Support is needed to defend natural herbal medicine. Health freedom is worth defending and if we do not take a stand against this directive access to natural remedies, vitamins, supplements and naturopathic medicine could be lost.
If you are interested in changing the current Traditional Herbal Medicinal Products Directive in the UK and EU, learn more about what is really going on with this directive. Become informed on what could happen to natural herbs because of this law.
To further help reversing the THMPD, sign the petition to stop this law at: Go Petition
Read more about the work the European office of the Alliance for Natural Health is doing to protect health freedoms for EU citizens at: anh-europe.org/
Thank you for reading!
This article is compliments of Dherbs.com
2015-09-21T10:39:35+00:00