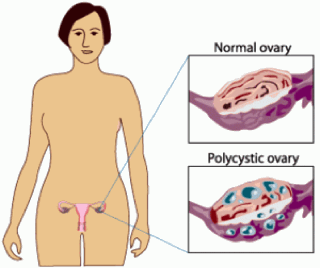 PCOS, which stands for "Poly Cystic Ovarian Syndrome" is also known as functional ovarian hyperandrogenism. The disease is defined as many or numerous cysts of (or inside) the ovaries that manifest in a group of symptoms that consistently occur together.
Symptoms
PCOS can adversely affect a woman's menstrual cycle, her ability to have children, her heart and blood vessels, and her hormones. Some of the common adverse side effects of this pathology include but is not limited to: amennorhea (no menstrual period), dysmenorrheal, infertility, increased hair growth on the face, chest, stomach, and back; acne, pelvic pain, and high blood pressure.
Acne is also an endocrine or hormonal system imbalance. Skin is an organ and secretes substances from it, however, just not into the bloodstream.
The small cysts in a woman's ovaries are fluid-filled in nature.
Facts about Poly Cystic Ovarian Syndrome
According to Western medical statistics, about 1 in 10 (or 5% of) American women have PCOS. The disease can occur in females as young as age 11. This female reproductive pathology is the most common cause of female infertility in American women.
Because this disease or pathology is located at the ovaries and affects them, PCOS is considered an endocrine system pathology, or a hormonal system pathology or disorder. In females with PCOS, the ovaries don't make all of the hormones they need for any of the eggs contained in them to fully mature. Follicles may start to grow and build up fluid. However, no follicle becomes large enough and instead some follicles remain as cysts. Since no egg matures or is released, ovulation does not occur and the hormone progesterone is not made.
Without progesterone, a woman's menstrual cycle is irregular or absent. Additionally, when PCOS is present, the cysts make male hormones, which also prevent ovulation.
Now if the female body is producing male hormones, e.g. testosterone, this explains why females with PCOS have hair on their face, chest and other areas of their body. Testosterone causes hair to grow on a man's face and chest. If a female is growing hair on her face and chest, she is producing too many masculine or male-based hormones due to an imbalance with her female hormones.
To learn more about PCOS and to remedy it, you have to learn more about the ovaries.
Ovaries
An ovary is one of the pair of female gonads found on each side of the lower abdomen, beside the uterus, in a fold of the broad ligament.
Ovarian health is critical for women. Like other organs and glands in the body, the ovaries must be nourished. For many females, the ovaries also must be strengthened, toned, and revitalized. This process must be done even if one or both ovaries have been surgically removed because the phantom organ(s) and gland(s) still responds to the physical acts designed for the removed physical organ or gland.
Dietary Intervention
In cases of all female reproductive pathologies, always eliminate animal products (meat and dairy) from your diet. Animals are injected with synthetic female hormones that throw off female hormonal systems.
Remember, dairy products not only contain the synthetic hormones that were pumped into the animal, but actually come from the animal's reproductive system, so anything from the reproductive system of an animal is going to eventually impair the reproductive system of the consumer.
So, to begin the healing process, eliminate all animal products (e.g. meat and dairy) from your diet and substitute them with vegan transitional foods but make sure to eat mostly raw organic fruits and vegetables (as well as seeds and nuts, unsalted or salted with sea salt) and drink plenty of freeze squeezed and freshly made vegetable juice.
For more information on diet modification with vegan and raw foods, please check out:
There are also some beneficial essential oils available that have an affinity for the ovaries in particular and female reproductive system in general that can be added to your bath water that will help you to heal from PCOS. These oils include: Combava, Clary Sage, Rose Geranium, Pennyroyal (1 drop only), Rue (1 drop only), and Cananga. With most of these oils, 2-3 drops in your bath water will suffice. Soak for about 30-45 minutes. Soak daily or as needed.
There are plenty of herbs that have an affinity for the female reproductive system and that nourish, strengthen, tone, and rejuvenate the ovaries and the whole female reproductive system and they include:
Sqauwvine
Red Raspberry Leaves
Maca
False Unicorn
Blue Cohosh
Black Cohosh
Dong Quai
Chaste Tree Berries
Sarsaparilla
Ashoka
Dherbs.com SolutionsGood Dherbs.com compounds that can help in the healing of PCOS include:
If you are suffering with acne and skin problems due to the PCOS condition, instead of the Fertility Cleanse, opt to perform the 10 Day Supreme Blood Cleanse also, make sure to use our Facial Skin Kit
You can perform all of the above cleanses back to back or wait 3, 5, 7, 10, 14, or 21 days in between. It's your choice.
A good daily post-cleansing regimen can consist of: (3 capsules) Female Hormonal , (1-2 cups daily) Female Health Tea , (3 capsules), (3 capsules) Fertility Booster , Female Toner inhaler Inhale as often as you feel the need to.
Thank you for reading!
2015-08-27T11:54:44+00:00