Rather than spending Valentine's Day looking for parking and waiting in crowded restaurants, stay home and get creative in the kitchen with your significant other. It will be a romantic time and a food fight may or may not take place, depending on who decides to commit to the first chocolate smear or lettuce toss.
Given that it is American Heart Month, we thought we'd give a few recipes with beets. We know that everyone is not a beet lover, but beets are juicy, red, and are great for nurturing the heart. They provide a rich, earthy flavor to dishes and you can even use their juice to finger-paint a Valentine's Day card.
Always make a card from scratch. Take a piece of paper, fold it in half, write "I Love You" inside, and cut a thin beet slice into a heart for a cool stamp. We aren't saying that this card is the key to unlocking the mysteries of love, but you can throw us a shout out if you do make this and things start heating up. Tag us on social media at Twitter: @dherbs, Facebook: @dherbsfamily, or Instagram: @dherbs.
The following recipes are healthy and delicious. They will definitely romanticize your evening.
#1: Raw Citrus Beet Salad 
If you want a light dish to start off the evening, try this citrus beet salad. The bright citrus flavors complement the inherent sweetness of the beets and the result is a rustic yet refreshing salad.
Click here to make the recipe.
#2: Comforting Beet & Cilantro Soup
This soup can help nourish your body with an abundance of vitamins, minerals, and antioxidants, and give it a helping hand to gently detoxify. It is a great appetizer for the big day.
Click here to make it.
#3: Vegan Butternut Squash Pasta
Pastas are incredibly popular on Valentine's Day, probably because Italian food is the way to the heart. Rather than eating all those carbs from regular pasta, use the vegetable spiralizer to make butternut squash noodles.
Click here to get your pasta on.
#4: Vegan Black Bean "Meatballs" in Marinara Sauce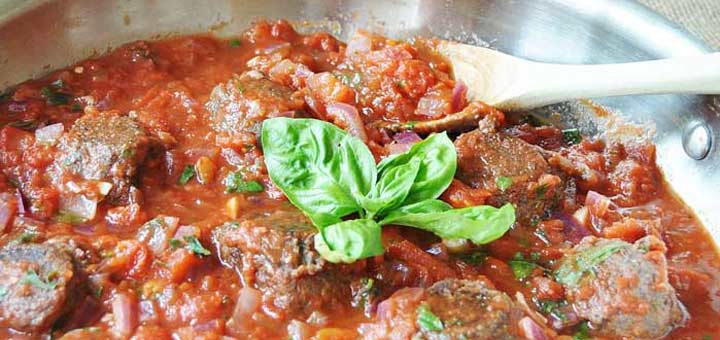 The rich, bold spices in these "meatballs" delight your palate with classic Italian flavors, but surprise them with the robustness of the portobello mushroom. If you'd like to accompany this dish with this lentil pasta recipe, use the extra sauce to coat the pasta.
Click here to make the recipe.
#5: Vegan Chocolate Covered Strawberries
Chocolate covered strawberries are the most classic Valentine's Day dessert. It is very easy to make them. We recommend making them prior to making dinner so that the chocolate has time to harden in the refrigerator.
Ingredients:
12 strawberries
¼ cup grade B maple syrup
¼ cup water
¼ cup cacao powder
Directions:
Combine the maple syrup and water and bring it to a simmer. Slowly whisk in the cacao powder and allow it to simmer for an additional 2-3 minutes.
Let the chocolate sauce cool for a few minutes before dipping your strawberries. Place the dipped strawberries on a plate and refrigerate until you are ready for dessert.
2017-02-10T17:56:17+00:00