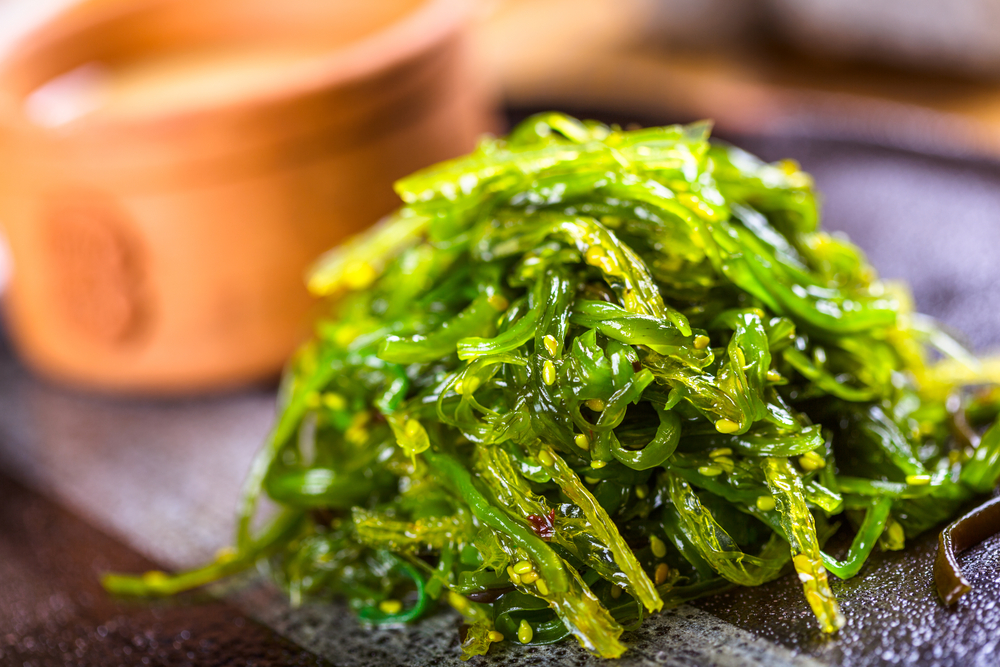 Most of us have enjoyed some flavorful, sticky sushi over the years, and likely had our first taste of seaweed in doing so. Filled with vitamins, minerals and antioxidants, this incredibly powerful food is under-utilized in western diets. But you don't have to spend a fortune in a sushi restaurant every time you want a bite of this extraordinarily nutritious fare, which is abundantly available in the wild. And you don't necessarily have to eat it to reap some of its health benefits…
Source: 7 Powerful Health Benefits Of Seaweed For The Whole Body – Inside & Out! | Bembu
1. Jam-packed with Vitamins and Minerals
Seaweed is famous for its high levels of iodine, which is critically important to the healthy functioning of the thyroid. Those whose thyroid doesn't properly function can expect weakness, high cholesterol, and fatigue.
In addition to iodine, seaweed is a great source of magnesium, calcium, Vitamins A, C, and K, protein, and vanadium. Vanadium helps the body metabolize carbohydrates, which means more energy for you.
2. Seaweed May Help Regulate Estrogen And Estradiol Levels
Research suggests that seaweed (particularly brown seaweed) may be excellent for women as it may reduce the risk of breast cancer, increase a woman's odds of getting pregnant, and help reduce symptoms of PMS.
3. Seaweed Helps Prevent Inflammation
Several studies have indicated that seaweed is an "extremely powerful" source of antioxidants, which can prevent inflammation. As a result, seaweed may reduce the risk of celiac disease, asthma, depression, obesity, and arthritis. This has lead many to theorize that consumption of seaweed is at least partially responsible for longevity in Asian populations.
4. Seaweed Detoxifies From The Inside Out
Seaweed removes toxins and fats from the body and also helps to protect the liver from toxic damage. The sodium alginate in kelp also helps absorb toxins from the digestive tract. This is fantastic news for both smokers and those who are exposed to industrial waste.
5. Seaweed Is Full Of Skin-Healthy Minerals
Although people having been enjoying seaweed baths for centuries, it wasn't until recently that researchers were able to identify more than 50 powerful skin-nourishing compounds. The heavy-duty detoxification properties in mineral-rich seaweed nourish and rejuvenate the skin, fight cellulite and minimize the visible appearance of wrinkles. As well as fighting signs of aging, seaweed extracts can minimize pigmentation and blotchiness in the skin, especially paler skin types.
6. Seaweed Strengthens Hair
Seaweed helps hair strengthen and rebuild itself. Eating seaweed or taking a marine extract supplement revitalizes dry hair and promotes thicker, stronger strands. Seaweed-based shampoos and conditioners can also improve the appearance and shine of hair and because of its inherent detoxifying attributes, seaweed also protects against environmental damage. There's even a promising study that seaweed may one day treat spot baldness.
7. Seaweed Is A Natural Pick-Me-Up And Tonic
Seaweed-based drinks and soups have been consumed in Ireland and the Caribbean for centuries as all-round tonics or as a pick-me-up, especially after an illness. Some claim kelp can reduce phlegm and reduce swelling, and it is also used as a natural hangover cure in some areas. Brown seaweed may assist the acid-alkaline balance, and has a prebiotic effect on the gut flora, which helps protect the gut lining. Seaweed is also used in home remedies to heal digestive problems. Research suggests that brown seaweed may be a good weight management tool as well because of its effects on lipase activity, which is an enzyme used by the body to break down fats.
2016-01-12T15:39:59+00:00