Following a vegan diet means that you have to find replacements for animal-based foods. This isn't the primary focus, but it valuable to have that information on certain occasions. If you are someone who loves creamy sauces, baking, meringue, or any recipe that requires an egg, you will love aquafaba. It is a vegan egg substitute that is made from chickpea water. Experiment with this egg substitute and new dietary doors will open for you.
Note: If you don't want to make sweet aquafaba, do not include the maple sugar or cinnamon.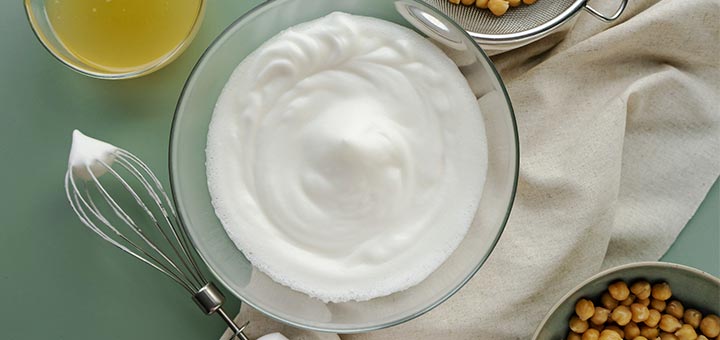 Prep Time:10m
Total Time:10m
Ingredients
1/3

c

aquafaba

1/2

c

maple sugar

1/2

tsp.

cinnamon

sea salt, to taste
Instructions
Just so everyone is clear, aquafaba is not blended chickpeas. Aquafaba is the liquid from a can of chickpeas or similar beans.
Pour the aquafaba into a bowl and beat it with a hand mixer. Do this for about 7 minutes until stiff peaks form.
If you are making it sweet, fold in the maple sugar, cinnamon, and sea salt with a spoon or spatula. Do not use a whisk because you don\'t want ruin the fluffy texture. If you are not making it sweet, only fold in the sea salt.
Use this as an egg substitute in your next recipe.
2022-08-01T06:10:06-07:00