Sometimes, you just need a filling entree that takes almost no time to make. Rather than eating a regular salad and taking the time to make the dressing, fill some lettuce leaves with an avocado mixture. It's not quite guacamole, but it's not too dissimilar from it either. It's all about the smashed avocado and carrot lettuce wraps!
The great thing about these avocado wraps is that you can take them for lunch. Pack the avocado mixture separately from the lettuce leaves, otherwise the leaves will get soggy and wilt. In fact, to prevent lettuce leaves from wilting, pack them in a plastic bag with paper towels. This will help to keep them crisp and firm, which is what you want when eating your wraps. All you have to do is spoon the mixture into the leaves when ready to eat and then enjoy. There's no excuse to not eat raw vegan while at work!
You have the freedom to choose which lettuce you want, but we encourage you to use romaine leaves. The firm spine helps them retain their boat-like shape, and it prevents the avocado mixture from simply spilling out the sides. If you prefer to roll up the leaves, as opposed to eating them like tacos, you can use green or red leaf lettuce. Butter lettuce is also beautiful for these wraps as the leaves have a cup-like shape. The same can be said for cabbage leaves, but cabbage will have a slightly bitter flavor and more crunch.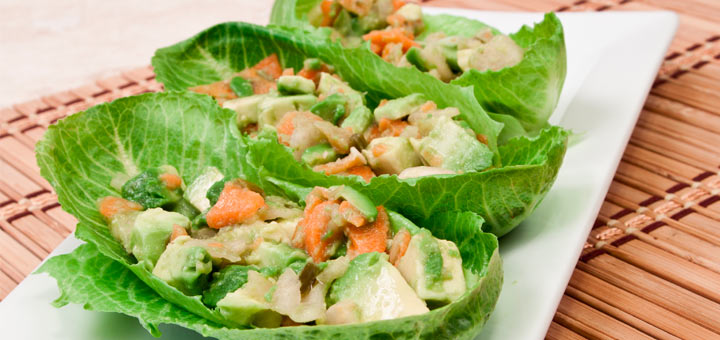 Prep Time:10m
Total Time:10m
Ingredients
1

large avocado, peeled, pitted, and diced

1

c

carrot, chopped

Juice of 1 lime

1/2

tsp.

sea salt

1/4

tsp.

cumin

2

tbsp.

onion, chopped

2

tbsp.

cilantro, chopped

1

tbsp.

jalapeno, diced

6

–8 lettuce cups
Instructions
Add the avocado and lime juice to a medium bowl and smash with a fork or potato masher.
Add the remaining ingredients, except for the lettuce leaves, and mash until desired texture. It doesn\'t have to be velvety smooth because a little chunkiness is great!
Fill each lettuce cup with some of the avocado mixture and then serve and enjoy.
2022-05-25T04:07:23-07:00