During the holidays, you tend to eat more than your stomach can hold. Food comas are almost as common as pumpkin spice lattes, which is not a good thing in case you were wondering. This raw soup gives your body a break from the onslaught of holiday treats and heavy meals. It is simple yet elegant, zesty and creamy. The combination of avocado and lime is simply the right amount of creaminess and tartness. That's where this soup begins.
The hardest part about this soup is preparing the vegetables. Because you add all of the ingredients to a blender, you don't need to cut everything perfectly. Once you rinse the ingredients, give them a rough chop and then add them to a blender. A little raw vegan hack to naturally warm up a soup is to let the blender blend for a couple minutes on high. Is this a little annoying and noisy? Absolutely, but the high-speed revolutions give the soup a subtle warmth. It's not like you're going to be eating piping hot soup; rather, the soup has a little natural warmth.
What would a soup be without some seasonings. To wake up your palate, this soup contains ground coriander, cumin, onion powder, sea salt, and coconut aminos. Without those seasonings, you'd just have a green smoothie with a bitter taste. Don't forget that you can use spices and seasonings while you are cleansing! Just make sure you don't use garlic salt, steak seasoning, and other seasonings blends that contain artificial flavors and preservatives.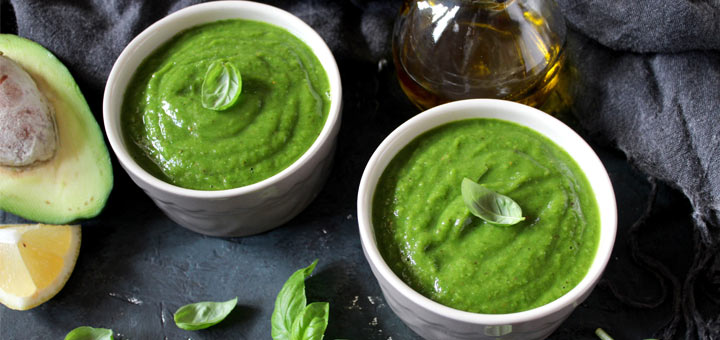 Prep Time:10m
Total Time:8m
Ingredients
1

avocado, peeled and pitted

2

c

spinach

3/4

cucumber, roughly chopped

1

celery stalk, roughly chopped

1

tbsp.

freshly squeezed lime juice

2

oz

cilantro

2

tsp.

cumin

1

tsp.

ground coriander

1

tsp.

onion powder

1/2

tsp.

sea salt

1

tsp.

coconut aminos

1

c

filtered water
Instructions
Add all of the ingredient to a blender and blend until smooth.
Leave the blender running on high for a minute or so to naturally warm up the soup.
Pour into two separate bowls, serve, and enjoy. Top with optional chopped green onions.
2022-11-29T17:50:08-07:00