Everyone loves fries, not matter if they are shoestring, crinkle cut, waffle-shaped, or thick cut. Fries from fast food establishments, however, are typically fried in unhealthy oils and then overly salted. If you want to enjoy fries and get more nutrients out of this classic side dish, you need a recipe like this one. You can easily transform the butternut squash into fries! Baked butternut fries are paleo-friendly, vegan, gluten-free, and wonderfully crisp on the outside and pillowy on the inside.
Similar to sweet potato fries, butternut fries are inherently sweeter than your standard potato. To balance that sweetness, add savory spices and seasonings. Butternut squash and thyme are a classic pairing, and you cannot forget the sea salt, paprika, black pepper, and garlic powder. Butternut squash contains a lot of fiber and is much lower in calories than potatoes. Plus, they offer lots of vitamin A, vitamin C, and magnesium. As long as you don't burn the fries to a crisp, you'l be able to reap their health benefits.
Now, to ensure an optimal crispy exterior, you dust the butternut fries with corn starch. Let them sit in the corn starch for about 10 minutes and then shake off excess before seasoning. Once you season the fries, scatter them across a baking sheet, drizzle with olive oil, toss to coat, and then bake in the oven. You have to keep an eye on the fries to ensure that they cook evenly. Ideally, flip halfway through and then you can broil them for about five minutes at the end to crisp them up. Best served with a lemon garlic sauce (click here for recipe).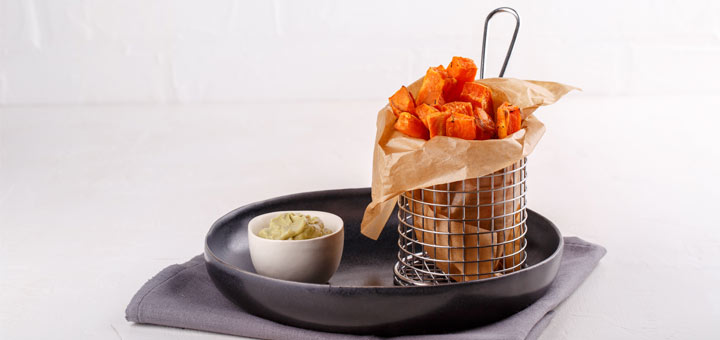 Prep Time:15m
Cook Time:35m
Total Time:50m
Ingredients
1

medium butternut squash, peeled, seeded, and cut into fries

3

tbsp.

corn starch

1

tsp.

garlic powder

1/2

tsp.

paprika

1/2

tsp.

dried thyme

1/4

tsp.

sea salt

black pepper, to taste

3

tbsp.

olive oil
Instructions
Preheat oven to 425º F and line a large baking sheet with aluminum foil or parchment paper. You can also use a silicone baking mat.
Place the butternut squash sticks into a large bowl, season with corn starch, and toss to coat. Let them sit for about 10 minutes before transferring to a colander to shake off excess corn starch.
Return the butternut squash to the bowl and season with the garlic powder, paprika, thyme, sea salt, and black pepper. Add the olive oil and toss to combine.
Scatter the fries across the baking sheet and bake in the oven for about 30 minutes, flipping halfway through to cook evenly. Once they finish baking, broil the fries for about three to five minutes, or until slightly crispy. Serve with optional lemon garlic sauce and enjoy.
2023-11-14T14:05:32-07:00