A traditional raw vegan banana ice cream is made by blending frozen bananas. You can always add a touch of alcohol-free vanilla extract for a little extra flavoring. The twist for this recipe is that you add frozen pineapple, which creates a similar flavor to a piña colada. While there isn't the signature coconut flavor, this banana pineapple ice cream tastes very tropical and refreshing.
The easiest way to make a raw vegan ice cream is by using a food processor. You can use a powerful, high-speed blender like a Vitamix, for example, but a regular blender may not be sufficient for the job. A food processor easily turns the frozen fruit chunks into a thick, creamy consistency. Before you blend the ingredients, you have to freeze the ingredients. To properly freeze the pineapple and banana, you cut each fruit into bite-size pieces and separate them onto a sheet. Freeze overnight and blend the next day.
If you want the consistency to be a bit more frozen, spoon the blended mixture into a freezer-safe container and place it in the freezer for about one hour. This will harden the mixture and create a better scooping experience when you want to serve up the ice cream. Feel free to top the ice cream with freshly chopped pineapple, desiccated coconut, or bananas. Please enjoy!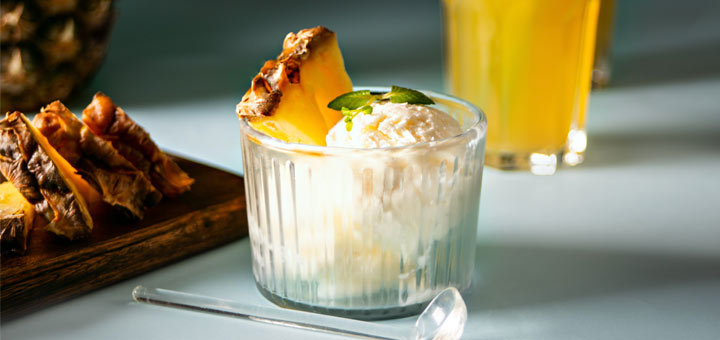 Prep Time:5m
Total Time:5m
Ingredients
2

bananas, peeled, chopped, and frozen overnight

1/3

c

pineapple, cubed and frozen overnight
Instructions
Add the frozen bananas and pineapple pieces to a food processor or high-speed blender and blend until smooth and creamy.
Enjoy right away or spoon into a freezer-safe container, freeze for an hour or so, and then enjoy.
2022-08-26T15:00:34-07:00