When you don't know what to make for dinner, roll up a bunch of ingredients in a cabbage leaf! This is actually a creative way to use a bunch of random ingredients that you have in your fridge. If you used half an avocado for homemade chocolate pudding and have leftover carrots or mint from other recipes, roll them up. This recipe only requires half a head of cabbage, preferably green cabbage but savoy will also work.
When you remove the leaves, one by one, make sure to remove any stiff ribs. They will make it very difficult to roll up the ingredients to essentially create little raw food burritos. Removing those stiff ribs allows for easier rolling and a less bitter, fibrous flavor. You don't need anymore bitterness because the watercress has a very assertive, peppery flavor, which may come off slightly bitter if you aren't familiar with it. It's a powerful microgreen that is quite unique. It works well in a roll because you don't need that much of it. A little provides powerful flavor, which is a pleasant balance to the sweet carrots, creamy avocado, and aromatic mint.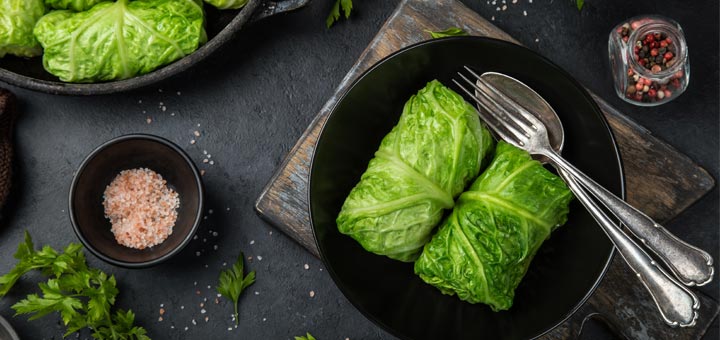 Prep Time:15m
Total Time:15m
Ingredients
1

c

watercress, chopped

1

carrot, julienned

10

mint leaves, torn

1/2

avocado, mashed

pinch of sea salt

1/2

head green cabbage
Instructions
Prep all of the ingredients and gently remove about 10 individual cabbage leaves, making sure not to tear them.
Remove thick, fibrous ribs if necessary.
Fill each cabbage leaf with your desired amount of toppings and then roll it up. Continue doing this until you run out of filling ingredients.
Plate and enjoy!
2022-05-31T04:38:41-07:00