This smoothie is the epitome of healthy eating. With a refreshing, zesty flavor, this smoothie is the perfect balance of the essentials: sweetness, greens, vitamins, and minerals. One bonus of drinking this smoothie is that you'll get a little metabolism boost, which you can attribute to the ginger. Ginger exhibits several compounds that assist with weight loss. According to studies, these compounds are involved in the complex bodily processes that burn and store fat.
Because this smoothie contains lots of powerful flavors, the best liquid to use is water. No juice or dairy-free milk is necessary. In fact, those liquids may create an unpleasant flavor. The only other additions to the smoothie, besides the ingredients in the name, are raw agave nectar and ice. You can omit the agave if you want, but it adds a subtle sweetness that makes for a more enjoyable drinking experience. The ice is necessary to yield that classic, chilled smoothie consistency. Failure to blend ice with the ingredients will likely yield a watery smoothie that has minimal texture.
The last, and possible most important, note about this smoothie is that you need to discard the thick, fibrous kale stems. You want to tear the leaves away from the thick, central stems because they have an unpleasant, bitter taste. That flavor will come through, even if you blend them with the other powerful ingredients in this recipe. Just trust us on this one, okay? We hope you love the smoothie and cheers to your health!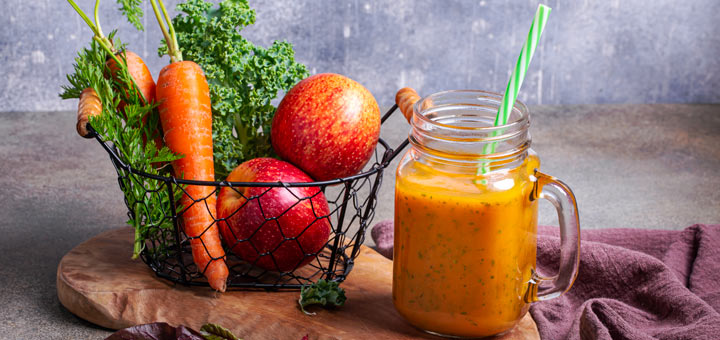 Prep Time:5m
Total Time:5m
Ingredients
1/2

c

kale

1/2

c

apple, chopped

1/2

c

carrots, chopped

1/2

c

filtered water

1/2

c

ice

1

tbsp.

raw agave nectar

1

tsp.

freshly grated ginger root
Instructions
Add all of the ingredients to a blender and blend until smooth.
If you want the smoothie to be a thinner consistency, add a little more water during the blending process.
Pour into a large cup and enjoy.
2022-06-14T00:29:28-07:00