Have you noticed a smoothie trend lately? Well, the weather is warm and nothing cools you off better than a smoothie. Plus, when you slurp up a smoothie, you take in a diverse mix of nutrients. From antioxidants and protein to healthy fats and fiber, a smoothie is the best delivery method for a ton of nutrients in one tall glass.
Is there a better combination than blueberries and chocolate? Well, blueberries, chocolate, bananas, and almond butter may be the ultimate combination of flavors. What's great about that combo is that it makes for an excellent breakfast smoothie. Not only does it fill you up, but it keeps you satiated until your next meal. The protein, fiber, and healthy fats are easily digestible, so they body can use them efficiently.
This smoothie is like a variation of the classic PB&J sandwich, but almond butter replaces peanut butter and blueberries replace the strawberries. The bitter cacao powder makes balances the sweetness of the banana and blueberries. And the almond butter offers a nutty, creamy texture to the smoothie. This smoothie is an energizing breakfast or pre-workout meal because it supplies the body with protein, complex carbohydrates, and healthy fats. When you drink this smoothie, it seems like you are indulging in a unhealthy milkshake, but it's ultra healthy and nutritious!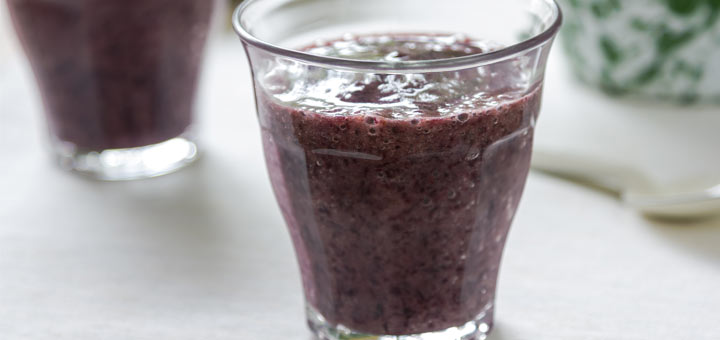 Prep Time:5m
Total Time:5m
Ingredients
1/2

c

blueberries, frozen overnight

1/2

banana

1/2

c

homemade almond milk

1

tbsp.

raw almond butter

2

tsp.

cacao powder

1

tsp.

raw agave nectar (optional)
Instructions
Add all of the ingredients to a blender and blend until you achieve a smooth consistency.
If the smoothie is not thick enough, add a handful of ice cubes and blend in order to thicken the smoothie.
You can always add a little more homemade almond milk or water if the smoothie is too thick for your liking. Enjoy.
2022-05-25T03:33:30-07:00