If you don't immediately fall in love with these mashed sweet potatoes, then we may need to have a discussion. This comforting dish is the perfect side to an entree salad and it can even be consumed for breakfast. If you do end up eating it for breakfast, drizzle a little extra maple syrup on top with a dash of cinnamon and some raw pecans.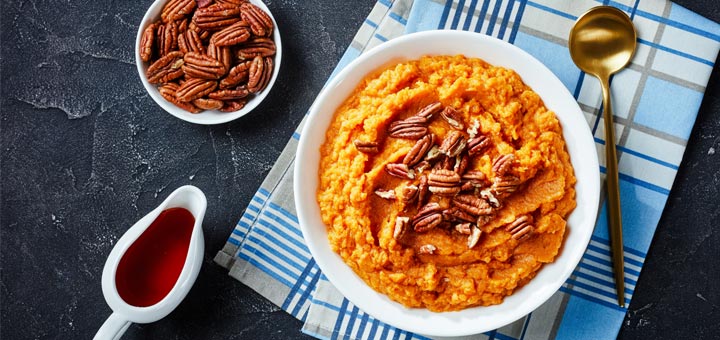 Prep Time:5m
Cook Time:15m
Total Time:20m
Ingredients
2

lbs sweet potatoes, peeled and cut into 2-inch cubes

1

c

filtered water

1

tsp.

ground cinnamon

2

tbsp.

vegan butter

2

tbsp.

grade A maple syrup

pinch of sea salt
Instructions
Add one cup of water to the Instant Pot and make sure that it doesn\'t past the fill line.
Place the cubed sweet potatoes inside the insert, cover the Instant Pot, and set the valve to the sealing position.
Press the Pressure Cook or Manual button, depending on your Instant Pot, and select high pressure with a time of 14 minutes.
Perform a quick pressure release and then carefully open the lid. Remove the potatoes from the Instant Pot and make sure to drain the cooking water.
Place the sweet potatoes in a large bowl and add the cinnamon, vegan butter, maple syrup, and the sea salt. Mash everything together until you get your desired consistency of mashed potatoes.
2022-06-23T01:32:07-07:00