Healthy salads like this are so good that you could eat them every single day. Don't think that you can eat a salad every day? Well, you just haven't had the right dressing. A salad with the wrong dressing can make you dislike the salad very quickly. When you have a dressing that is as addictive as the one in this recipe, you tend to find yourself drinking it all up after you finish the salad.
This colorful romaine salad is all about the crunch. While romaine is a crunchy leafy green, this recipe invites other crunchy superstars to the party. We are talking about bell peppers, carrots, cucumbers, and purple cabbage. These ingredients add wonderful texture, color, and refreshing flavors. Let us know how you like the salad in the comments below.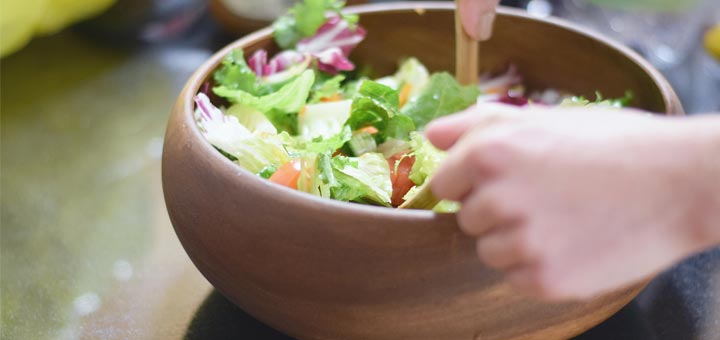 Prep Time:15m
Total Time:15m
Ingredients
For the Salad
1

c

cucumber, sliced

1

c

carrot, diced

1

c

red bell pepper, thinly sliced

1

c

yellow bell pepper, thinly sliced

1

scallion, finely diced

2

romaine hearts
For the Dressing
4

tbsp.

raw almond butter

3

tbsp.

filtered water

1 1/2

tbsp.

grade A maple syrup

1

tsp.

coconut aminos

juice of 1 lime

pinch of red pepper flakes (optional)
Instructions
For the Salad
Add all of the ingredients to a large mixing bowl and toss gently to combine.
Set aside while you make the dressing.
For the Dressing
Add all of the ingredients to a small mixing bowl. Using a whisk, stir the ingredients until you get a smooth consistency.
Allow the dressing to sit for a few minutes before tasting it. You want to give the flavors a chance to get to know each other. Adjust seasonings as needed, or use another tablespoon of water if it is too thick.
Drizzle the dressing over the salad, toss to coat all the ingredients, and serve.
2022-06-09T02:03:36-07:00