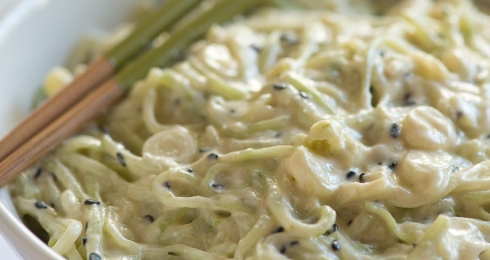 Ingredients
• 4 medium to large cucumbers• 1/2 cup cashews, soaked until soft, rinsed and drained• 1 young Thai coconut, flesh from (about 1 cup and save the water)• 4 limes, juice and zest• 1/4 cup coconut water (from above coconut)• 1 teaspoon raw chili garlic sauce (recipe below)• 1 teaspoon fresh grated ginger• 2 teaspoons cumin• 2 tablespoons black sesame seeds• 4 scallions (green onions) thinly sliced• 1/4 teaspoon Himalayan salt

Raw HOT Chili Garlic Sauce

6

oz

hot chilies, chopped3 cloves garlic, chopped1/2 teaspoon Himalayan salt1 1/2 teaspoon coconut crystals (or sweetener of choice)1 1/2 tablespoons raw apple cider vinegar

1

Put all ingredients in food processor and pulse until a coarse texture is achieved. Let stand for 30 minutes to meld flavors. This is HOT so use sparingly. 
Instructions
The Noodles
1. Start by peeling and cutting the cucumber in half (in the middle). Slice cucumbers into noodles using a mandolin or cheese grater. Carefully slice the cucumber over the blade just until you get to the seeds. Stop and do the other side. Then finish with the two sides that haven't been done yet. Treat the cucumber like it is square and you are slicing all 4 sides down to the seeds. Set the core aside as you will be adding it to the dressing. 
2. Set noodles in strainer to let excess water drain.
Dressing 
1. Place two cucumber cores, cashews, coconut, lime juice (not zest), coconut water, chili garlic sauce and cumin into a high speed blender and blend until smooth. 
2. Stir in zest, black sesame seeds and onions. Pour over noodles and mix well. 
2015-10-02T23:12:36+00:00