Dehydrating fruits or vegetables is a great way to reduce food waste. It's not difficult and it's a much more affordable and healthy option than buying packaged, processed snacks. Additionally, most dehydrated produce items are rich in added sugars and preservatives, a primary of which is sulfur dioxide. This helps to keep the fruit or vegetable looking vibrantly colorful, or more akin to the color of the fresh variety.
A dehydrator can seem like a burden, but it's very easy to use, especially now that they make user-friendly compact varieties. Some dehydrators are noisy, but many are fairly quiet and don't emit a lot of heat on the exterior. It's a great kitchen item if you regularly purchase dried fruit, which can cost upwards of $15 per bag. You can also make chips, fruit leather, and other raw vegan creations. For these apple chips, you only need a handful of ingredients. Although it's better to use Fuji or Gala apples, you can use an apple variety that you prefer. Galas and Fujis simply pair great with the cinnamon flavor.
During the dehydration process, it may smell like you're baking apple pie. That signature cinnamon aroma fill the kitchen, and you may want to dive in immediately, but wait until the apples crisp up. It may take all night for this to happen, as peak crispiness can take up to 12 hours to achieve. The good news is that you'll have crunchy apple chips that are 100% raw vegan when you wake up. Let us know how you like them in the comments below.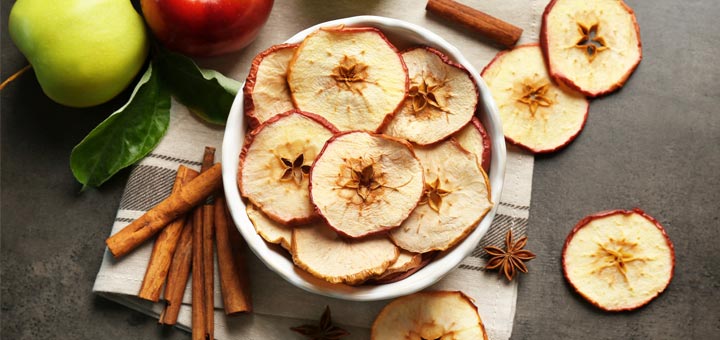 Prep Time:15m
Cook Time:12h
Total Time:12h 15m
Ingredients
5

large Gala or Fuji apples

1

tbsp.

freshly squeezed lemon juice

1

tsp.

ground cinnamon
Instructions
Rinse the apples and then thinly slice them using a mandoline. If you have an apple corer, use this before you slice them. If you do not have one, just watch out for the seeds.
Combine a few cups of cold water and the lemon juice in a large bowl. Add the apple slices to the water and let them soak for about one minute.
Drain the water and then sprinkle the cinnamon over them. Toss to coat.
Place the apple slices in single layers on dehydrator sheets. Add the dehydrator sheets to the dehydrator and set the timer for 12 hours at 115º F.
If you have the energy, flip the apple slices halfway through the dehydration process.
Once they are finished, test a chip and remove if it is crispy enough. If not, dehydrate until crisp. Store the chips in an airtight container and consume within a week.
2022-08-03T03:42:06-07:00