One of the best ways to start your day, besides drinking a glass of water, is to flood the body with nutrients. An easy way to do this is to drink a smoothie for breakfast. A fruit smoothie is tasty, but can contain too much sugar, which is why it's ideal to evenly balance fruits and vegetables in your smoothie. Spinach is and excellent green to add to smoothies, but you should change up your leafy greens. Diversity in diet is a beautiful thing and switching up leafy greens is an easy way to incorporate new nutrients.
Kale does exhibit a stronger, slightly more bitter flavor profile than spinach, but the banana, mango, and lime juice work to balance that flavor. We can promise you that there are so many other flavors in this smoothie that you won't be bombarded by bitter kale. In fact, you may not taste it at all! In addition to a balanced flavor profile, this smoothie also contains lots of protein and healthy fats. The fats come from four ingredients: avocados, chia seeds, hemp seeds, and homemade almond milk. While hemp seeds and chia seeds are great options, you can use other substitutes if they aren't available to you. Great substitutes for these two ingredients include flax seeds or pumpkin seeds.
In regards to using fresh or frozen ingredients, that is entirely up to you. We encourage you to freeze the banana and mango chunks overnight to give the smoothie texture. If you don't want to freeze your ingredients, you can always add your desired amount of ice to the smoothie. The frozen fruits or ice work to give the smoothie that signature chill and slushy consistency. Let us know what you end up doing and if you like the smoothie in the comments below.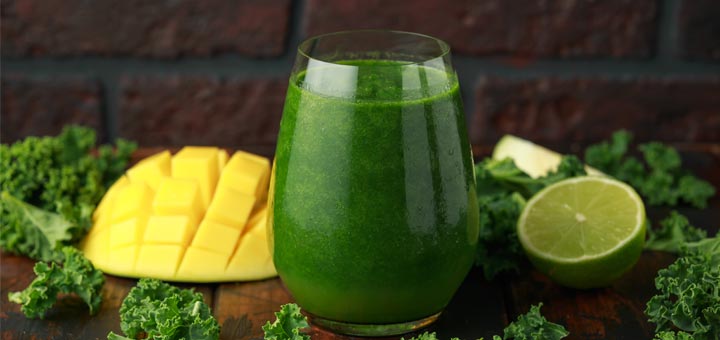 Prep Time:5m
Total Time:5m
Ingredients
2

c

kale, thick stems removed

2

tbsp.

chia seeds

2

tbsp.

hemp seeds (hemp hearts)

1

c

mango, cubed and frozen overnight

1

banana, peeled, sliced, and frozen overnight

1/4

c

avocado, cubed

1

tsp.

alcohol-free vanilla extract

juice of 1/2 lime
Instructions
Add all of the ingredients to a blender and blend until smooth.
Pour into two cups and enjoy. If you are feeling super hungry, enjoy the entire blender by yourself!
2022-06-14T00:20:33-07:00