Because this stew will keep fresh in the refrigerator for about 2 days, you can make a large batch, enjoy it for dinner, and then portion it out for healthy lunches for these colder days. You can also freeze this stew and defrost it in a saucepan over medium heat when you want to enjoy it.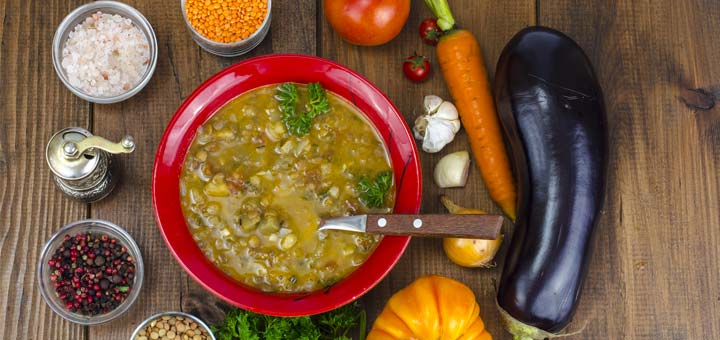 Prep Time:30m
Cook Time:2h
Total Time:2h 30m
Ingredients
1 1/2

lb

long, narrow eggplant, cubed

1

tsp.

sea salt

1/2

c

lentils

water

1/3

c

extra-virgin olive oil

1

medium onion, finely chopped

4

medium garlic cloves, minced

2

medium tomatoes, chopped

2

Anaheim chiles, stems removed and coarsely chopped

2

tbsp.

chopped mint leaves

1

tbsp.

organic tomato paste

1/4

tsp.

crushed red pepper
Instructions
Scatter the eggplant cubes on a baking sheet and sprinkle with sea salt. This works to draw excess moisture out of the eggplant. Set aside for about 30-40 minutes.
Add the lentils to a saucepan and make sure they are submerged in about 2 inches of water. Place the saucepan over medium heat and bring to a boil.
Reduce the heat to low and simmer for about 15 minutes, or until tender. Remove from the heat and drain the lentils after cooking. Set aside.
Coat a large pot or Dutch oven with 1 tablespoon of the olive oil and warm over medium heat. In a bowl, toss the onion with the garlic, tomatoes, Anaheim chiles, mint, tomato paste, crushed red pepper, and 2 teaspoons of sea salt.
Rinse the eggplant and pat dry. Spread 1/2 cup of the vegetable mixture in the pot and top with half of the eggplant. Cover with half of the lentils and half of the remaining vegetable mixture. Top with the remaining eggplant, lentils and vegetable mixture. Drizzle the rest of the olive oil over the stew, add one cup of water, and cover to cook.
Bring the stew to a boil. Cover and cook over low heat, stirring occasionally, until the eggplant is very tender, about 1.5 hours. Serve hot, warm or at room temperature. Enjoy!
2022-08-03T05:46:45-07:00