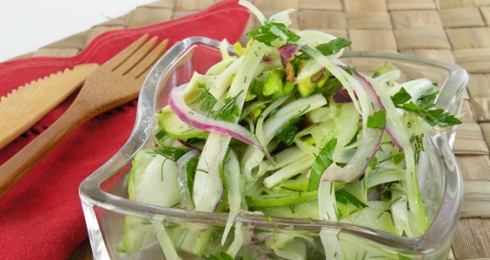 Prep Time: 10m
Cook Time: 2m
Ingredients
1

medium sized fennel bulb, or 2 small bulbs

1/2

small Granny Smith apple

1/2

small red onion

1/2

c

of shelled pistachios

1

handful of fennel fronds

1

handful of parsley

1/2

of a seeded jalepeño or serrano pepper

juice of a small lemon

extra virgin olive oil (to taste)

sea salt (to taste)

white pepper (to taste)
Instructions
First, thinly slice or use a mandoline: 1 medium sized fennel bulb, or 2 small bulbs 1/2 small Granny Smith apple 1/2 small red onion Place into a bowl.
Coarsely chop: 1/2 cup of shelled pistachios and a handful of fennel fronds and parsley
Finely mince: 1/2 of a seeded jalepeño or serrano pepper. Add remaining ingredients to bowl.
Finally, squeeze over the juice of a small lemon, drizzle lightly with extra virgin olive oil, and season to taste with a delicate sea salt and white pepper.
Toss well and serve.
2015-10-02T23:35:31+00:00