Enjoy this vegan creation that will delight your taste buds. The chai cream filling boasts the rich spices, which pair beautifully with the homemade crust and fresh fruit on top. Although strawberries and blueberries are pictured, you can get a little more creative with your fruit toppings. Kiwis, pomegranate arils, banana slices, and thinly sliced apples make excellent toppings that refresh the palate. Which fruits will you choose to top your tarts? Let us know in the comments below.
Just a quick reminder that this recipe is not a raw vegan recipe for our cleansers. It is almost raw vegan, but the chai tea makes it vegan because it contains caffeine, which is not allowed while cleansing. Additionally, the oats in the crust are also not allowed while cleansing. It is, however, a great post-cleanse recipe as you transition back into regular foods.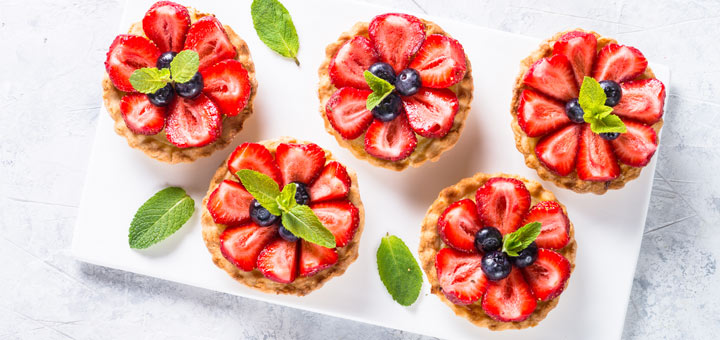 Prep Time:20m
Total Time:20m
Ingredients
Crust
1

c

raw oats (or gluten-free buckwheat groats)

1

c

dates
Filling
1/4

c

strong brewed chai tea, plus the chai filling in the tea bag

3/4

c

cashews

1/2

tsp.

vanilla

1

banana

1

tbsp.

melted coconut oil

1/4

c

agave/maple syrup
Instructions
Crust
Pulse the oats and dates together in your food processor until it starts to stick together. Press into the bottom of tart molds. Set in the fridge.
Filling
Blend all ingredients together in your food processor until smooth. It should be pretty thick but keep it mind it will thicken more. If it's very thin, add another banana or more cashews. Put the filling in each tart mold and set in the fridge or freezer overnight (or for a few hours if you simply can't wait). Decorate with fresh and dried fruit and enjoy!
2022-05-27T03:43:03-07:00