As the days get warmer, you need lighter meals that don't weigh you down. You also need refreshing snacks and dessert options to cool you off. Although it isn't quite summer yet, nothing screams warm weather like a homemade popsicle. In fact, we'd argue that popsicles are the quintessential warm weather treat because they are both sweet and refreshing. They are even better when you eat homemade ones that are free of preservatives, dyes, and added sugars.
Before you get started on making these popsicles, we need to cover a few popsicle-making basics. First, you'll need a mold for your popsicles, ideally one that is silicone because you can remove the pops more easily once frozen. Some molds come with reusable handles, while others do not and you have to go old fashioned with wooden popsicle sticks. If you don't have a popsicle mold, you can use small paper or plastic cups and wooden sticks for the handles. If you want to make popsicles on a regular basis, though, consider buying a reusable mold to cut down on waste.
When you fill your popsicle molds with the blended cantaloupe mixture, keep in mind that liquid expands as it freezes. For this reason, leave a little room at the top to allow for expansion. You should also freeze your popsicles for about 20-30 minutes before inserting the stick. That will prevent the sticks from falling over to one side. Because cantaloupe is so sweet, you don't need additional sweetener. The pineapple provides a complementary tartness, while the homemade almond milk makes these pops taste extra creamy. We hope you enjoy them on a sunny, spring day!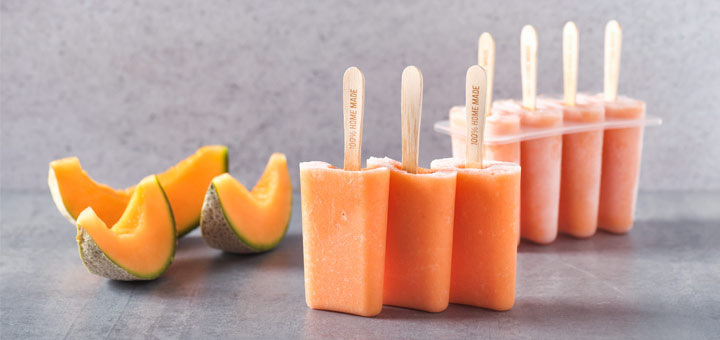 Prep Time:10m
Total Time:10m
Ingredients
8

c

cantaloupe, peeled, seeded, and cubed

2

c

pineapple, peeled and cubed
Instructions
Add all of the ingredients to a blender and blend until smooth.
Pour the blended mixture into the popsicle molds and place in the freezer for about 20-30 minutes. Remove and then insert the sticks in the center of each pop.
Place back in the freezer and allow them to completely solidify, which should take about three to four hours.
Remove from the freezer and enjoy when ready. Be careful when removing the pops from the molds.
2023-04-25T10:52:30-07:00