A good spread, especially if it is a healthy one, is always good to have on hand. With pear season nearing its end, there has never been a better time to make pear butter. Similar to apple butter, pear butter has warming fall spices that are addictively delicious. You'll want to spread this on everything! Well, maybe it won't go great on your roasted vegetables, but it does elevate toast and raw fruit slices.
Pear season ends in October, which is why you've probably seen a plethora of pears in grocery stores and farmers' markets. Most pears (about 95%) are grown in the United States and tend to come from California, Oregon, and Washington. While we cannot control how your palate feels about pears, we can tell you that the most common and tasty varieties are Bosc, Bartlett, Anjou, Concorde, Forelle, and Comice pears. If you have a lot of pears and need to use them before they go bad, this pear butter is the recipe you've been searching for. It helps preserve the pears, so you won't waste them.
Because this recipe does not come together in a slow cooker, it does take about 45 to 50 minutes to come together. You want to cook it low and slow because the pears need to soften in order to easily blend them into a smooth and luxurious butter. This is a spread that you'll be craving from the moment you try it! Let us know how you like it in the comments below.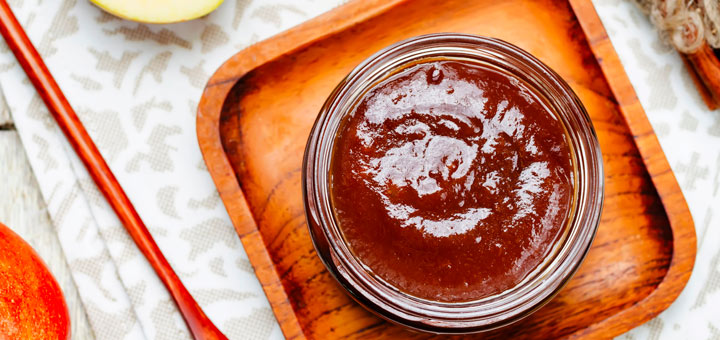 Prep Time:10m
Cook Time:45m
Total Time:55m
Ingredients
2

lbs ripe pears, cored cubed

2

tbsp.

raw agave nectar

2

tsp.

lemon juice

1/2

tsp.

cinnamon

1/4

tsp.

ground ginger

pinch salt

pinch ground nutmeg

pinch ground cloves
Instructions
In a medium saucepan over medium-high heat, combine all of the ingredients. Once you bring the mixture to a boil, reduce the heat, cover the pan, and let it simmer for about 45 minutes, stirring occasionally.
The ingredients can burn easily, so make sure to keep an eye on it. You do not want burnt-tasting pear butter.
Once the mixture has thickened, remove the saucepan from the heat and transfer it to a food processor. Blend until smooth and then pour it into a pint jar.
Refrigerate the pear butter until you are ready to use. You can also use it immediately after blending if you want to enjoy some warm pear butter.
2023-10-24T10:20:49-07:00