These energy balls don't taste like the classic hot chocolate beverage you are thinking of. When we say "hot," we are referring to spice, chile, heat, or little kick. That's right, folks, this energy ball recipe combines two classic ingredients: chocolate and chili. The richness of the chocolate offers a subtly sweet and bitter flavor that balances the kick from the chili powder and cayenne. It's a flavor combination that will give you all the feels. You may even need a towel to wipe the sweat from your forehead!
This recipe calls for raw cacao powder, raw cashews, and dates. The best dates to use are Medjool dates, which are larger and darker than other varieties. You can also use Deglet Noor dates, which are quite common and offer a similar taste to honey. If you use Deglet Noor dates, however, you will need to use 50% more than Medjool dates. Whichever dates you decide on, make sure to remove the pits before you add them to the food processor.
Make sure that when you are blending the energy balls to scrape down the sides of the food processor to ensure that everything is thoroughly mixed. To avoid a giant dust cloud, you can always add some cacao powder with all of the ingredients, and then add more after you have a creamier mixture. Lastly, if you don't have a strong food processor, make sure to soak the cashews in water for at least two hour. Drain them and then add them to the processor for easier blending.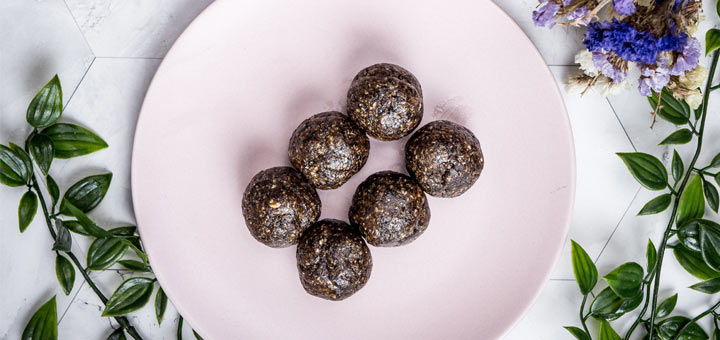 Prep Time:10m
Total Time:10m
Ingredients
1

c

raw cashews

15

-18 dates, pitted

2

tbsp.

raw cacao powder

1/4

tsp.

chili powder

1

tsp.

cinnamon

pinch cayenne pepper

1

tsp.

alcohol-free vanilla extract
Instructions
Add the cashews to the food processor and blitz until you get a crumbly mixture.
Add the remaining ingredients to the food process and blend until a dough-like ball forms.
You may have to stop blending, scrape down the sides, and continue blending to ensure that the ingredients blend evenly.
Wet your hands with water and begin to form tablespoon-sized balls out of the blended mixture. Space them out on a baking sheet lined with parchment paper to avoid sticking.
Place the energy balls in the fridge or freezer so that they can harden.
Enjoy when ready.
Place leftover energy balls in an airtight container and store in the fridge for up to two weeks.
2022-05-25T03:20:32-07:00