If this doesn't become your new favorite salad, we don't know what to say. Dressed in a zesty lemon vinaigrette, this kale and avocado salad will fill you up and supply you with protein and healthy fats. Normally, people have a skewed view of kale, primarily because people don't always prepare it correctly. You need to massage kale before eating it. No, really, we are serious. When you massage the leaves as you rinse them off, kale becomes a little less fibrous and tough. You also have to remove the thick stems because those have a bitter, unappetizing flavor.
Once you massage the kale and remove the thick stems, it's important to chop it finely. The smaller you chop the kale, the more it breaks down and the easier it is to eat. You'll get lots of crunch from the pine nuts, so there's no reason to make your jaw do more work by crunching on large pieces of kale. Finally, the creamy avocado brings everything together. It adds a creamy texture and it marries beautifully with the lemon vinaigrette.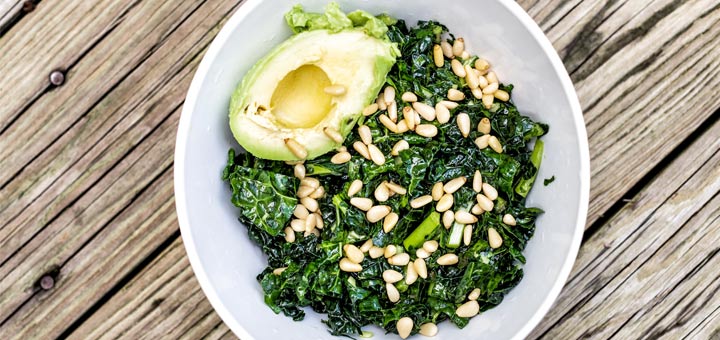 Prep Time:10m
Total Time:10m
Ingredients
1

lemon, juiced

1

tbsp.

extra virgin olive oil

1/4

tsp.

sea salt

pinch of black pepper

1/4

tsp.

garlic powder

2

c

kale, de-stemmed and finely chopped

2

avocados, peeled, pitted, and cubed

1/4

c

raw pine nuts
Instructions
In a small bowl, quickly whisk the lemon juice, olive oil, sea salt, pepper, and garlic powder. Taste and adjust seasonings as needed.
Set aside while you prepare the salad.
After prepping the ingredients, add the kale, avocados, and pine nuts to a large salad bowl.
Pour the dressing over the salad and toss to ensure all of the ingredients are coated.
Serve and enjoy.
2022-05-25T04:07:25-07:00