You can have dessert and boost your health at the same time. We're well aware that this is a crazy concept, but that's what happens when you provide the body with nutritious ingredients. Unlike a traditional lemon sorbet that only utilizes the juice, this sorbet calls for the actual flesh of the lemon, in addition to the juice. Not only does this provide body to the sorbet, but it also gives you extra nutrients and lemony flavor.
Lemons aren't the only ingredient that thicken this sorbet, though. They get a helping hand from one frozen banana and homemade almond milk. The almond milk aids the blending process and also enhances the creaminess, making this dessert somewhat of a sorbet/ice cream hybrid. It may seem odd to include banana and almond milk in your sorbet, but they balance the tart lemony flavor. Consider them a creamy relief to the acidic lemon and powerful ginger, which has a peppery flavor. You may be able to tame the flavor of lemon and ginger, but you can't tame their health benefits.
Lemon and ginger happen to be two of the best foods for your immune system. Lemon is rich in vitamin C and other antioxidants, both of which help to enhance immune function. Ginger exhibits strong anti-inflammatory and antioxidant properties, helping your immune system respond to appropriate threats. Several test-tube studies indicate that ginger has the ability to improve immune response. Additionally, ginger has antibacterial and antiviral properties, which help the immune system fight foreign invaders. And who said you couldn't be healthy while enjoying a bowl of ice cream?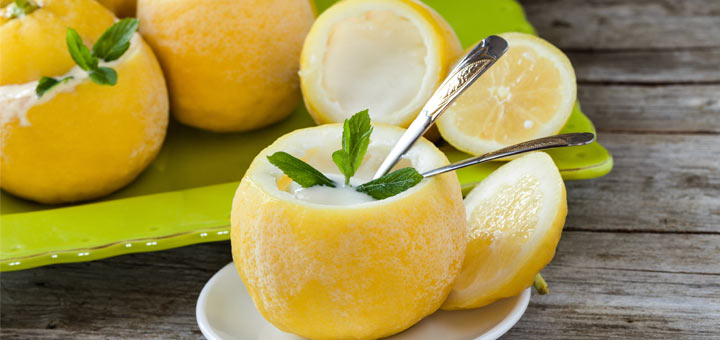 Prep Time:5m
Total Time:5m
Ingredients
1

c

lemons flesh, seeded and frozen overnight

1/3

c

homemade almond milk

1/3

c

freshly squeezed lemon juice

Pinch of black pepper

2

tbsp.

mint leaves

1

inch ginger root, peeled and grated

2

tbsp.

raw agave nectar

1

banana, peeled and frozen overnight
Instructions
Make sure that your lemons are free of their peels. You do not want to have that extra bitter flavor in this dessert.
Add all of the ingredients to a food processor or high-speed blender and blend until smooth.
Spoon the mixture into a freezer-safe container, cover, and place in the freezer for a couple hours.
Remove from the freezer, serve in bowls or hollowed out lemons, and enjoy.
2022-05-17T01:06:08-07:00