When life gives you lemons, you make these delicious protein bites! These are incredibly tasty and contain a protein boost to power you through the day. To make your bites extra zesty, roll them in some extra lemon zest and raw coconut flakes.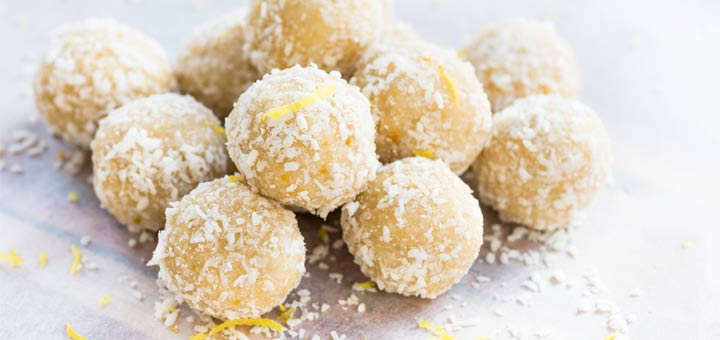 Prep Time:20m
Total Time:20m
Ingredients
1

c

raw almond butter at room temp

1/4

c

raw agave

2

tbsp.

filtered water

1

tbsp.

lemon zest

2

tsp.

fresh ginger, peeled and grated

Extra lemon zest and raw coconut flakes for coating (optional)
Instructions
Place all of the ingredients, except the optional ones, in a bowl and mix well. Once you have achieved a smooth batter, chill in the refrigerator for 10 minutes.
Remove from the fridge and form the dough into bite-size balls. This is the time you would coat them in extra lemon zest and raw coconut flakes, if you so choose.
Place the balls in an airtight container and store in the fridge for up to one week. You can also keep them in the freezer for later consumption.
2022-06-08T00:57:10-07:00