Butternut squash is one of our favorite squash varieties. Not only is it extremely affordable, but it's also nutrient dense and packed with subtly sweet and earthy flavors. Sometimes, it can be frustrating to cook with, so people tend to shy away from it. The only work that you have to do in this recipe is cut the butternut squash in half, spoon out the seeds, roast, and then mash the roasted squash. There is no peeling necessary, which is excellent news considering that a butternut squash is a pain to peel. The ingredients are simple, delicious, and they just comfort the soul. We hope you enjoy this recipe.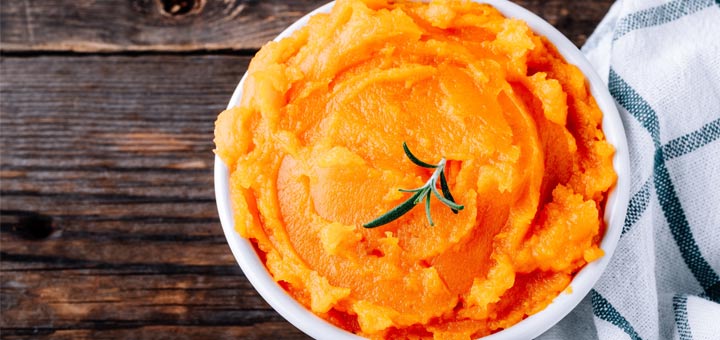 Prep Time:15m
Cook Time:1h 15m
Total Time:1h 30m
Ingredients
1

large butternut squash (3-4 pounds)

2

tbsp.

extra virgin olive oil

1

tbsp.

grade A pure maple syrup

1

tsp.

sea salt, plus more to taste

1/2

tsp.

black pepper, plus more to taste

1/4

tsp.

ground nutmeg

1/8

tsp.

cayenne pepper (optional)

1/4

c

unsweetened almond milk
Instructions
Preheat your oven to 350º F and line a baking sheet with parchment paper.
Cut off both ends of the butternut squash and then slice it in half lengthwise. Make sure to scoop out the seeds and place it cut-side up on the baking sheet.
In a small bowl, mix one tablespoon of olive oil with the maple syrup, sea salt, and black pepper. Brush this mixture evenly on each half of the butternut squash.
Insert in the oven and bake for one hour and 15 minutes. You want the squash to be very tender so that it is easy to mash.
Remove the squash from the oven and allow it to cool for a few minutes.
Scoop out the flesh and place it in a large mixing bowl. Add the remaining tablespoon of olive oil, nutmeg, optional cayenne, and almond milk to the bowl. Use a potato masher or electric hand mixer on low speed and mash until it is no longer chunky.
Taste and adjust the seasonings as necessary. Enjoy hot.
2022-03-15T01:23:47-07:00