This is probably the easiest Alfredo sauce you will ever make. While the nutritional yeast is an optional ingredient, it gives the sauce a "cheesier" flavor, so we recommend using it!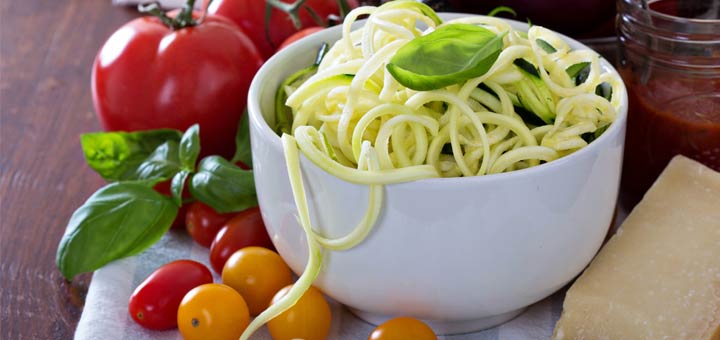 Prep Time:15m
Total Time:15m
Ingredients
4

small zucchinis

1

c

raw cashews, soaked in water for 20 minutes and drained

3/4

c

water

1

tbsp.

freshly squeezed lemon juice

1/4

tsp.

nutmeg (optional)

1

tsp.

thyme

2

garlic cloves

sea salt & pepper, to taste

2

tbsp.

nutritional yeast (optional)
Instructions
For the Zucchini Noodles
Spiralize the zucchini to create noodles. If you\'d like, you can quarter the zucchini and use a mandolin or peeler to create flatter noodles that are almost like tagliatelle pasta.
For the Alfredo Sauce
Add all of the ingredients to a food processor and blend until smooth.
Place half of the zucchini noodles in a bowl and pour half of the sauce over those noodles. Mix well to ensure the zoodles are coated in the sauce. Repeat for the other half or you can store the sauce and zoodles separately for another meal later on.
Top with sliced cherry tomatoes or diced basil and parsley.
2022-06-08T01:19:54-07:00