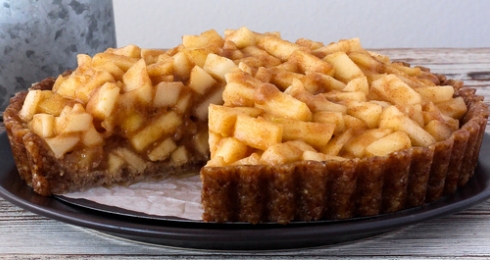 Ingredients
20

medjool dates, pitted and divided

1 1/2

c

walnuts

3

medium apples, different varieties

1

c

filtered water, plus more for soaking

1/2

tsp.

ground cinnamon

1/4

tsp.

fine sea salt
Instructions
Line the bottom of a round 8″ tart pan with parchment paper; set aside. In a food processor fitted with the S blade, blend the walnuts into a fine meal. Add 8-10 dates and process for 20-30 seconds, just until the dates are blended and combined. Press the dough into the prepared pan, then cover with plastic and freeze until ready to use.
Add the remaining 8 dates to a small bowl and cover with water; soak for 10-15 minutes. While the dates are soaking, prepare the apples by peeling and coring them. Cut into 1/4″ thick slices then chop into small chunks. Transfer to a small bowl and cover with a damp towel (and lemon juice, if you're worried about them browning). When the dates have finished soaking, discard the water. Add the dates, water, cinnamon and salt to a high speed blender and blend until smooth; about 15-20 seconds. Pour over apples and toss until the chunks are evenly coated.
Remove the pie crust from the freezer and pile with apple filling. Freeze for at least 45 minutes before serving. Pie will keep frozen in an air tight container for up to 6 weeks, but it is best consumed sooner.
2017-03-14T13:03:35+00:00