We don't want to lead you astray and make you think that this tastes like chicken, because it doesn't. When you mix it together with the vegetables, however, it does have a similar texture to chicken salad. The important thing is that the flavors are bold and it is a great recipe to keep you from cheating on your raw diet.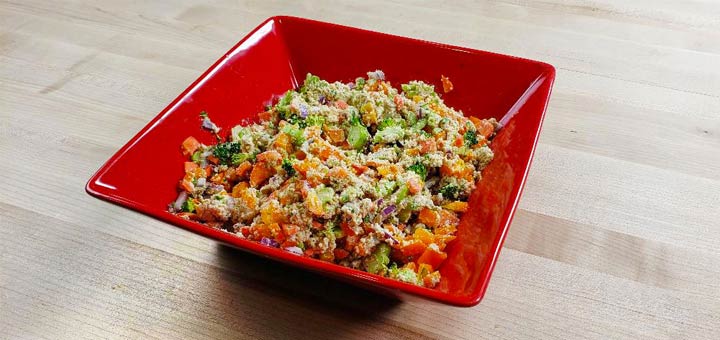 Prep Time:10m
Total Time:10m
Ingredients
For the "Chicken"
2

c

raw cashews (soaked for 2 hours and then drained)

5

tbsp.

freshly squeezed lemon juice

1

clove garlic, minced

1/4

c

filtered water (add more as needed)

1

tbsp.

fresh dill, chopped

1

tbsp.

green onion, chopped

1/2

tsp.

Himalayan pink salt
For the Vegetable Mixture
1

orange bell pepper, diced

1/4

c

onion, diced

1

carrot, diced

1

c

broccoli florets, diced

1

jalapeño, seeded and diced
Instructions
Add all of the "chicken" ingredients to a food processor and pulse until it looks similar to chicken salad. You can slowly add water during the blending process if necessary.
Spoon the "chicken" into a large mixing bowl and add all of the diced vegetables. Mix to combine.
Serve in lettuce leaves, on raw crackers, or eat the chicken salad by itself. It's delicious no matter which way you serve it.
2022-06-14T01:12:06-07:00