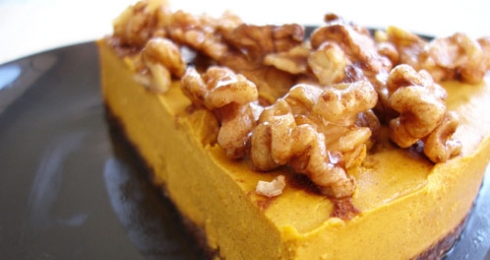 Ingredients
For the Crust
1

c

walnuts

3

tbsp.

raw agave

1

tbsp.

raw coconut oil

3/4

tsp.

cinnamon

1/8

tsp.

nutmeg

pinch of sea salt
For the Candied Walnut Topping
1

c

walnuts, roughly chopped

2

tbsp.

raw agave

1

tbsp.

raw coconut oil

1/2

tsp.

cinnamon

pinch of sea salt
For the Sweet Potato Filling
3/4

c

coconut butter (not oil!)

3/4

c

water

1/2

c

raw agave

1

tbsp.

cinnamon

1

tsp.

vanilla extract or 1/2 vanilla bean

1/2

tsp.

grated fresh ginger

1/4

tsp.

nutmeg

3

c

peeled and chopped sweet potato
;
Instructions
For the Crust
Place the walnuts in your food processor fit with the S-blade. Process to finely chop. Add all remaining ingredients and process until sticky. Press into the bottom of a 9″ spring form pan. Place in the freezer to set.
For the Sweet Potato Filling
Place all ingredients except for the sweet potato in a high speed blender and blend until well combined. Add the sweet potato and blend again until very smooth. Pour over the crust.
For the Candied Walnut Topping
In a medium bowl, toss all ingredients together until the walnuts are evenly coated. sprinkle evenly over the top of the pie. Place the entire pie in the freezer for 3-4 hours until set. Cut into 8-10 slices when fully frozen. Thaw 30 minutes before serving.
2017-11-14T13:40:23+00:00