Get out your food processor, folks, because it's time to blend some ingredients and turn them into raw vegan ice cream! Diving into a delectable bowl of ice cream during your cleanse is a treat you both need and deserve. Ice creams are surprisingly easy to make, so long as you use frozen ingredients. And that is why we recommend using a food processor. You can use a high-speed blender, but the food processor yields a creamier result.
The one note that we have about this ice cream is that you want to be conservative with the amount of homemade almond milk you use. The reason for this is because too much liquid can turn this into a smoothie bowl. You can always start with a quarter cup and then add another quarter cup during the blending process. Lastly, make sure to freeze your bananas and blueberries overnight!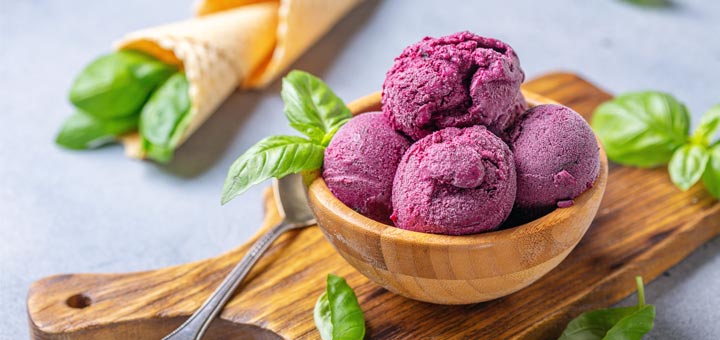 Prep Time:10m
Total Time:10m
Ingredients
2

large ripe bananas, peeled, sliced, and frozen

1

c

blueberries, frozen overnight

1/2

tsp.

ginger powder

2

tsp.

freshly squeezed lemon juice

1/2

c

homemade almond milk
Instructions
Add the frozen banana pieces to a food processor and blend until you get a consistency that resembles soft serve.
Once the bananas are sufficiently blended, add in the blueberries, ginger powder, lemon juice, and homemade almond milk. Continue blending until it is thick like ice cream.
Spoon the mixture into a container, cover with plastic wrap, and place in the freezer for about 30 minutes to an hour.
Remove from the freezer when you are ready to eat. Scoop yourself some ice cream and enjoy.
2022-05-25T03:23:09-07:00